A Quick Guide To Riga
Latvia, sandwiched between Lithuania and Estonia, are collectively known as The Baltics. Gaining independence from Soviet Rule in 1991, this small country of around 2 million people, is, in spite of its turbulent past, embracing the future and working hard to promote Latvian culture. Our SNAPSHOT  post is a quick guide to Riga with ideas for things to see & do, eating, drinking, getting about and more.
Riga, Latvia's capital city is a great place to spend a day or two. A pretty old town, although not technically "old" is a pleasant place to stroll. Meander through the cobbled streets, people watch with a coffee or beer. If Art Nouveau is your thing, brace yourself as there are around 800 buildings to discover, of contrasting styles and colours. Alberta Iela boasts magnificent architectural wonders, grand facades adorned with stunning sculptures, but look out for Latvian inspired Art Nouveau too.
Riga particularly prides itself on its green spaces which are open 24 hours. The only rules are no drinking of alcohol, smoking or if you are older than 12, using the playgrounds! The parks feel safe and welcoming, a tranquil place to relax and enjoy a variety of refreshments. If you are a connoisseur of tea, sit on a colourful cushion and peruse an eclectic menu of 300 teas at the Aspara Teahouse.  Additionally, look out for the wooden boats, sailing down the Riga canal. Boat trips afford an alternative view of the city, away from the hustle and bustle.
Check out our SNAPSHOT, a quick guide to Riga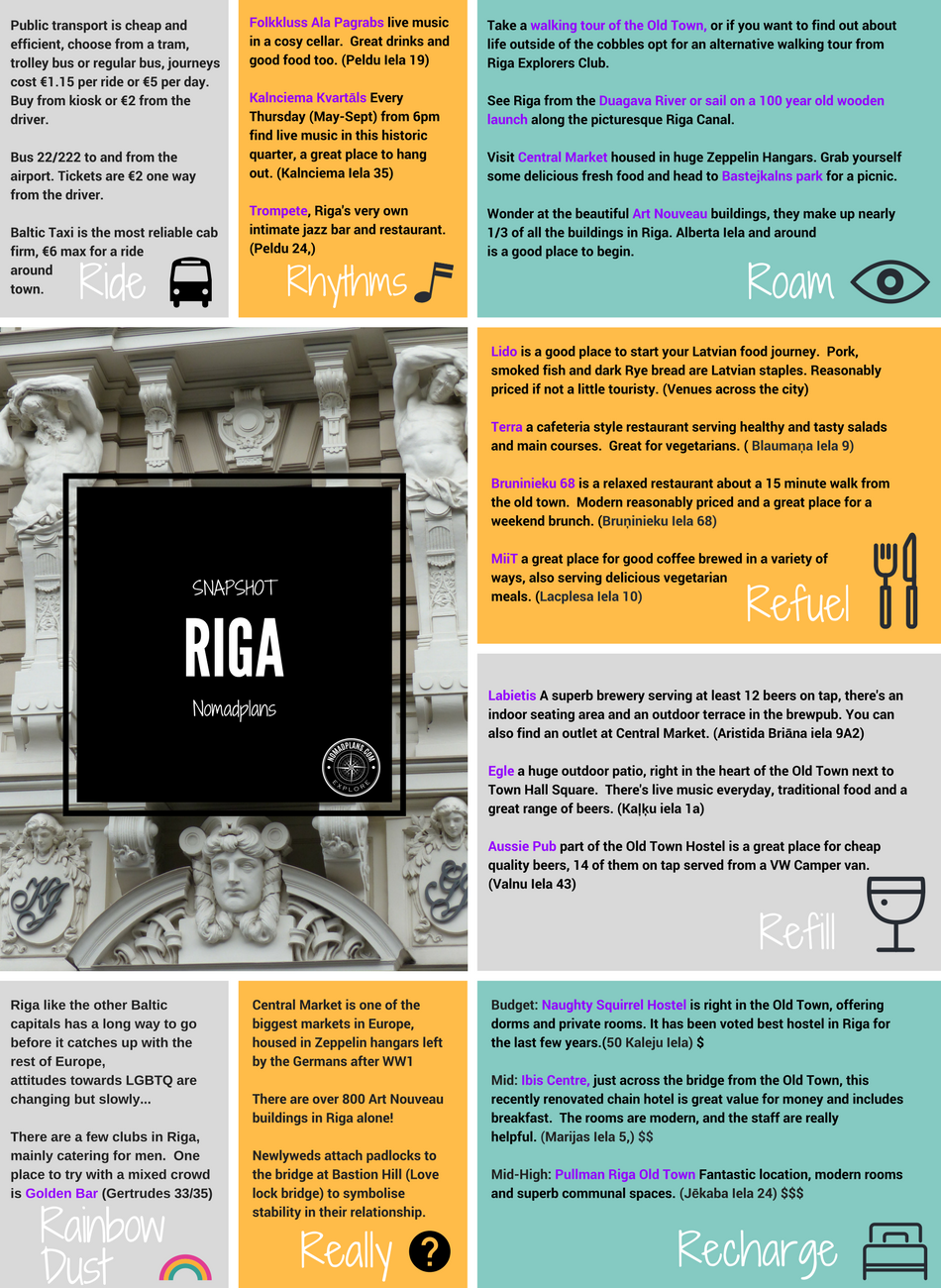 We really enjoyed our time in Riga, especially the "Alternative walking tour." This tour avoided the old town, concentrating instead on the outer areas of the city. It was useful to gain some insight of how Latvians live, from a local guide. The market is well worth a visit, a creative use of redundant Zeppelin hangars.
A Baltic Road Trip?
If you have more time, do as we did and combine Latvia with a visit to Vilnius, Lithuania's capital. We flew into Vilnius and took a whole day tour to Riga. This allowed us to visit Kaunus see "The Hill of Crosses" as well as Rundale Castle en route. It is also possible to take whole day tours from Tallinn, in Estonia. This is a great way to combine the Baltics and make the most of the sightseeing opportunities along the way. Although a 12-hour trip, it was great breaking up the journey with guided tour spots.
All in all, we would definitely recommend the Baltics. All are charming in their own way, Vilnius being our favourite. It is important to remember how new these countries are, the Soviet influence is still visible and although an intrinsic part of Baltic history, attitudes are changing. People here have had their world turned upside down, many lives have been lost, it is only now that they are independent and forging a new way forward that we will have the chance to see what the Baltic States are made of.
Pin it!
We hope you have found our SNAPSHOT guide to Riga useful. In addition, if you are planning a trip to the Baltics, check out our ZOOM IN Vilnius post and SPOTLIGHT on Open Kitchen, Vilnius.
We used the Lonely Planet Estonia, Latvia & Lithuania (Travel Guide)
 to plan our trip.
If you are interested in the different types of posts we write, TAKE A LOOK AROUND our site.

SaveSave
SaveSave
SaveSave
SaveSave
SaveSave
SaveSave
SaveSave
SaveSave
SaveSave
SaveSave