Porto City Guide
Porto, in the North of Portugal, is a stunning medieval city, its historic centre known as "Ribeira" achieving UNESCO World Heritage status in 1996. This is a city famous for buildings decorated with beautifully painted Azulejo tiles, baroque churches and cobbled streets. The Douro River is a hive of activity. Traditional Rabelo boats remind us of Porto's historic past and visitors can admire the 6 bridges that straddle the water. From the river the beauty of Porto is evident. Colourful buildings, stand tall, vying for attention. Washing lines billow from picturesque balconies, affording a glimpse of Portuguese life and a chance to see what makes this city special. In our Porto city guide, we highlight the top attractions. Will you put Porto on your list of cities to visit this year?
Porto is a city surprised by the sudden number of tourists visiting. Usually, it is Lisbon and the Algarve which attracts all the attention. But as a city we'd always wanted to visit, we thought we'd see what Porto had to offer and we were not disappointed! We knew about the port wine, we'd heard about the sardines and someone had mentioned a custard tart…So, we decided to book an apartment in the Medieval district and spent a wonderful week exploring Porto and the Douro Valley. Our friend Claire joined us for the trip, this hilly city soon felt like home, there is much to be discovered about this fascinating place – go now while authenticity prevails!
Take a walking tour
The best way to learn about Porto's history and understand what makes the place tick is by taking a tour with a local. We spent a fantastic morning with Eugenia from portofreewalkingtours. She was a brilliant Porto city guide, extremely knowledgeable, friendly and passionate about her city.
This 3-hour walking tour, including an opportunity to buy a coffee and pastel de nata (the infamous custard tart), was really well organised. For a start, it was mostly downhill! Secondly, there was just the right balance of history and current affairs. It was lovely to sit in a guitar shop and listen to some fado, enlightening to learn about cork and its positive environmental impact as well as visit the Cathedral, see the most beautiful McDonald's in the world and find out about a special bookshop, Livraria Lello, which was frequented by JK Rowling. In addition, we discovered the work of the architect José Marques da Silva and found out why City Hall looks like a church!
We would definitely recommend this free Porto city guide tour. Book ahead online and tip according to what you feel the tour is worth. We have taken many tours with locals, around the world and this is definitely one of the best we've experienced.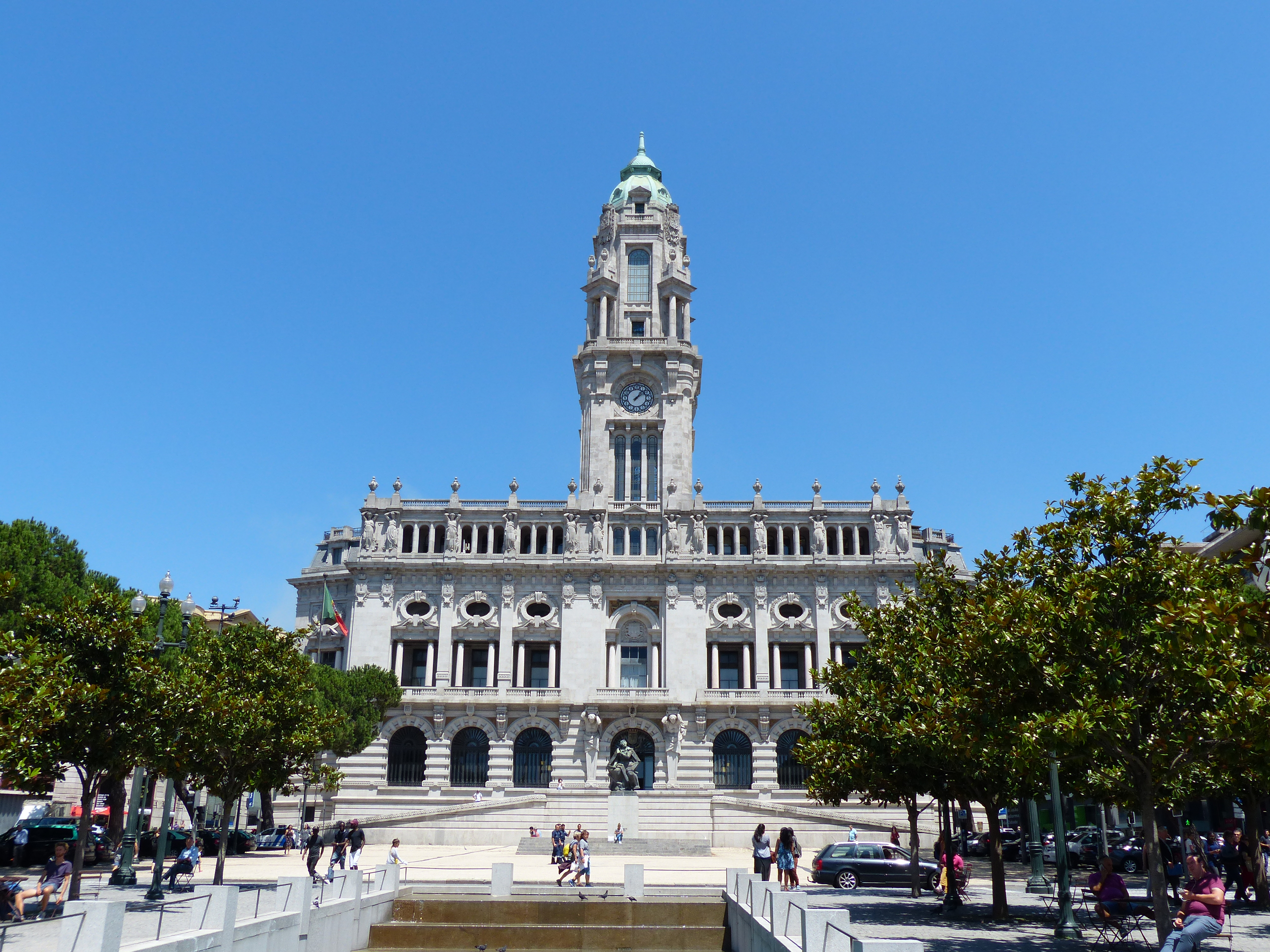 Take a picnic to the Contemporary Art Gallery
Serralves, is a cultural institution. A museum with contemporary art exhibitions, extensive sculpture gardens and an Art Deco villa. It's a wonderful place to relax away from the city. Porto is noisy, busy and very much alive, so it's good to schedule in some quiet time. Take the 201 bus to the Vodafone stop. General admission is €20. We spent a pleasant afternoon meandering, admiring and interacting with the sculptures. It's a peaceful retreat, beautifully planted and we loved the healing aromas of Eucalyptus trees.

Hit the beach
Porto and beach don't immediately spring to mind, it's the Algarve which is well known and adored by sun worshippers. But Porto does have some beaches within its vicinity. If you're after a dip in the Atlantic and a sun lounger for the day, go knowing Porto is essentially a city, not a resort. We went to Espinhos, 40 minutes by train from São Bento Station. This is very much a beach frequented by locals, most people had brought all the accruements required for the day. We hired 3 sunbeds and a canopy, donuts and sandwiches are sold on the beach but not much else! Although there are plenty of food options along the prom.
Try the freshest sardines imaginable
A bus to Matosinhos is a must if you want to experience freshly caught, grilled to perfection fish. Don't do this on a Monday as the fisherman don't work on Sundays! Take the 500 bus from outside  São Bento Station and get off at the end of the line. Then follow your nose to Rua Heróis de França, where you will discover lots of restaurants grilling their fish al fresco.
We chose a lovely local eatery called Tito, it was great to watch our sardines & mackerel being grilled on the street, delicious aromas wafting towards us as we anticipated devouring our "catch of the day." A really lovely lunch complete with buttery potatoes, fresh salad and grilled peppers. Oh and topped off with a creme brulee, finished with a hot iron from the grill – perfection! There are plenty of places to choose from, we sat outside – it's not a street you'd pick for the view, but the fish is definitely a treat! All washed down with a bottle of Vinho Verde, the local "green" wine with a bit of frizzante.
Following our sardine extravaganza, we walked along the prom to Foz, a pleasant 45min stroll with a wonderful view of the Atlantic. Matosinhos is also a good city beach option. Lots of people were enjoying the sunshine, learning to surf, cycling and go-karting. There are many lovely bars en route, offering drinks with a view and plenty of eateries in Foz. We took a traditional tram back to Porto, it's a fair walk from Matosinhos to Porto especially after lunch!
Take a 6 bridges river cruise
The views from the Douro River really are lovely. They can be appreciated by walking across the bridge to Gaia which is certainly worth a stroll. Here you will find Port Wine cellars to explore, great eats and stalls selling lovely jewellery made from cork and tiles.  We enjoyed an afternoon there and also loved the views to be had on a short river cruise. The 6 bridges of Porto are the focus, try and sit near the front of the boat to get the best photographs.
There are lots of companies running boat trips, the one we chose was on the Porto Card so we received a 20% discount. The wooden boats are reminiscent of pirate ships, complete with colourful bunting wafting in the breeze. There is a multilingual commentary, providing information about the bridges, the highlight being the 19th Century Maria Pia Bridge, designed by Gustave Eiffel.
Visit the Douro Valley
Breathtakingly beautiful, the Douro Valley is absolutely stunning and for many a must see from Porto. Although technically should not be within a Porto city guide, it is a worthwhile day trip whilst stating in Porto. There are several different ways to visit, a variety of tours combine boat from Porto to Pinhão, with an option to take the train back. Also, a historic steam train, one way or return is available. Some tours include lunch, others incorporating wine/port tasting tours, it depends on your preference. Check out getyourguide to find out details of prices and options.
We decided to take a small group tour which included minivan transport, a boat trip, lunch and 2 wine tours. At €100 each, it was expensive and to be honest, although a lovely day, to us not worth the money. In hindsight, we should have taken a regular train from Porto to Pinhão and then organised our own wine/port  & boat tours from there. A bit of forward planning would have saved considerable cost!
For those interested in the process of making port/wines, the Douro Valley is a definite highlight. We learnt about the different types of grapes, the terracing and harvesting techniques. It reminded me of the Inca terracing we saw in South America. The Valley is stunningly beautiful, serenely tranquil and a wonderful day trip. Just do it yourself and don't be put off by those who say it would be difficult to go solo.
See one of the most beautiful bookshops in the world
Livraria Lello – think beautiful wood panelled walls, delicately & intricately carved. Picture a sensational double staircase, exquisite stained glass, crystal chandeliers and experience an old-fashioned grandeur, where attention to detail is paramount. Oh and not to mention books, complete with a quaint wooden tram to move them about on. It being a bookshop, you would think books would be top of the agenda, I'm sure they are for some but the main reason for visiting this tiny independent store is to marvel at how delightfully quintessential it is.
Sceptics would say it's the links with JK Rowling which have brought this family owned business such attention and fame. I disagree. Yes, JK Rowling taught in Porto and visited the bookstore, yes she may have been inspired by the quaint interior, which perhaps gave her imagination a helping hand when it comes to Dumbledore's office or Hogwarts Library, but this bookshop is well worth a visit regardless of your Potter status. Appreciate it for what it is, a step back in time and the opportunity to appreciate craftsmanship, tradition and see an exquisite facade.
It costs €5 to enter the shop, buy your ticket from a couple of doors down and join the queue. The entrance fee is refunded off the price of a book. I'm not sure there is a quiet time to experience Lello, perhaps when everyone else is eating… But despite the crowds, take time to marvel at the splendour that is Lello and discover why it has been rated the 3rd most beautiful bookshop in the world by Lonely Planet.
Climb Clerigos Tower
For unparalleled views of the magnificent city that is Porto, climb the 225 steps to the top of the baroque Clerigos Tower. Already occupying an advantageous position at the top of the hill in the Riberia District (and didn't we know it having walked up and down every day to our apartment.) A trip to the top is a must for a panoramic perspective of Porto. Fortunately, our friend Claire made the effort… The photo is hers! (Lazy us…)
Check out the Photographic Museum
Housed in a former prison, the photography museum is an interesting space to house exhibitions. The high ceilings, arched doorways and stunning views from the upper floors, make the prospect of prison almost appealing! (Almost…) On the highest floor, you can see a great selection of vintage camera and photography related accessories. The lower level houses changing exhibitions. It's free to enter and well worth your time.
Ceramic tiles and churches
Porto has an abundance of churches, many of which are adorned by a beautiful hue of predominantly blue Azulejo ceramic tiles. All are worth a look but the top pic has to be São Francisco. This prominent gothic monument has a beautiful baroque interior. Also, the church of St Ildefonso is worth a visit.
Any Porto city guide will recommend São Bento station. Definitely make this exquisite station a priority stop, even if you're not taking a train. The station boasts magnificent religious & royal, scenes. Also look out for tiles depicting traditional life, agriculture and the progression of transport. The station really is a sight to behold, just watch your belongings whilst being distracted by the beauty of the place. Furthermore, check out "Quém es Porto?" (Who are you, Porto?) to the left of the station, a building covered in tiles designed by local Porto residents, depicting images which they feel represent the essence of their city.
Sample the delights of Porto's local fayre
No trip to Porto would be complete without trying out the local specialities. Kerry and I love food tours, feeling this gives us a great opportunity to eat in local places with a bit of history and knowledge thrown in.
We spent a wonderful morning with Renato of Bluedragon tours on the "Bites & Sites" tour. At €74 it was competitively priced and well worth the money. Our guide was fantastic, knowledgeable and friendly. The timings of the tour were perfect, it was relaxed and informal. Quality food and plenty of it… from cod fishcakes to pastel de nata, pork sandwiches to port & wines, cheese and meat boards to a traditional lunch, it was all there and much more!
The company prides itself on small group tours, we were 7 in total and we all had a great time. It was an authentic eating experience in proper local establishments and no suggestion to buy anything. It was food-focused and fabulous! Check out our full review here.
Porto Card
If you are interested in museums or prefer to take public transport over walking, the Porto Card may be a good option. Offering free admission to a selection of sites and discounts to other attractions, eateries and shops, the card can be purchased online, or from the tourist information. It can be purchased for 1 or more days, with or without transport but doesn't include the historic tram. The Porto card is reasonably priced compared to other cities, but obviously only offers good value if you are planning on visiting the included attractions. The app isn't the easiest to navigate and we felt the accompanying leaflet didn't provide any information about the sights. That said, do your research and you might save money for more pastel de nata!
Porto city guide – additional top sights include:
The huge Palácio da Bolsa, a 19th-century palace with an impressive interior.
Casa da Música, a contemporary concert hall completed in 2005. You can take a guided tour if you are interested in architecture. Even better get tickets for a live performance and feel the building come to life.
The Palácio de Cristal, or Crystal Palace gardens are a welcome break from the busy city. The views of the river are beautiful.
Porto is an enchanting city, take some time to discover its charms. Some say the city can be seen in 48 hours, we disagree. If you want a true picture of Porto, an understanding of its history and an immersive experience, you will need more than two days. Like the very best Port wine, good things take time.
During our trip to Porto, we received a complimentary 48 hour Porto card from the Tourist Board. Also, we were guests of the Bluedragon "Sights and bites tour" and had free entrance into Livraria Lello. As always we offer an honest, unbiased opinion.
Pin it!
If you are interested in the types of posts we write TAKE A LOOK AROUND our site.
If you are interested in finding out more about Bluedragons "Sights and bites" food tour see our SPOTLIGHT post.

SaveSave
SaveSave
SaveSave
SaveSave
SaveSave
SaveSaveSaveSave
SaveSave