Quick Guide to Mexico City
Mexico City, a spectacular metropolis of sprawling suburbs, each with its own unique and distinctive style. The people are vibrant,  life-loving and keen to welcome you to their eclectic city. Delicious aromas waft from every street corner, you will probably want to indulge in a taco or 10 and a mile of churros! Whether you have a pan-chance for a pig's snout, ear or brain, it's all on the menu!
This special city is a veritable melting pot of different traditions, cultures and influences. So, take a deep breath and prepare for a whirlwind of experiences! For starters, prepare to be bowled over by the magnificent architecture of Cento Historico. The feel is European, but with a distinctive twist.
Stunning Architecture Everywhere!
From the awe-inspiring golden dome of Palace de Artes to Latin Americas largest and oldest Cathedral. "The Assumption of the most Blessed Virgin Mary into Heaven" is an impressive amalgamation of Baroque, Neo-Classic and Neo-Renaissance styles. With over 150 Museums to peruse, which will you choose? Oh and we loved "Palicao de Correos de Mexico" – probably the grandest Post Office in the world! Check out our quick guide to Mexico City, for suggestions and highlights.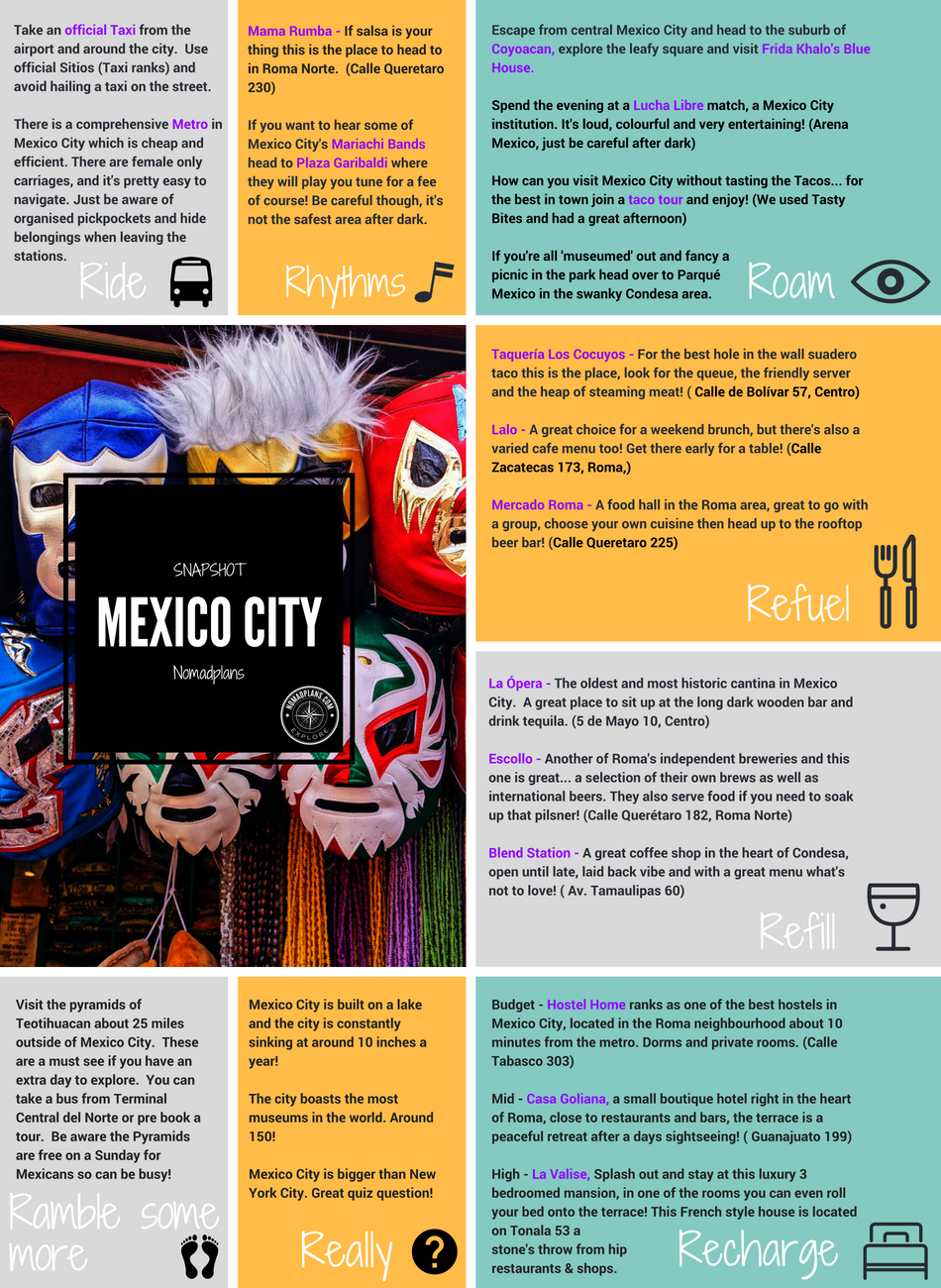 Roam, Recharge, Refill and Refuel!
Within this quick guide to Mexico City, you will see many of the places we have recommended to stay/eat are in the suburbs of Roma and Condesa. Tourists can wander in these areas in relative safely, particularly at night. It is vital to be diligent and discreet with your belongings. Pickpocketing and theft are particularly prevalent in the Zocalo area. But it is easy to be distracted anywhere by the sights, rhythms and carnival infused atmosphere – we were and had our camera stolen…
Head to a quieter suburb
Although not technically in "Mexico City" why not take some time to discover the green and leafy district of Coyoacan. Relax and enjoy the bohemian vibe where Freida Kahlo spent her days. Eat the best Churros in town at El Estación (Aguayo 7, Coyoacán) people watch and relish a slower pace of life. The perfect antidote to the hustle and bustle of Centro Historico, this was our favourite part of town. We would highly recommend taking the audio tour at Frida Kahlo's "Blue House." It was a brilliant and immersive experience, enabling us to gain a valuable insight into the life and struggles of Mexicos National treasure.
We thoroughly enjoyed our time in Mexico City. Having travelled there via the Yucatán and Chiapas areas, we were surprised at how different it was compared to our previous experience of Mexican Cities. You will not be short of things to see and do and you are sure to have a tale to tell upon your return! We hope you find our quick guide to Mexico City useful. In addition, check out our "How to get Frida Kahlo Blue House" and Taco tour recommendation.
Thanks for reading, if you are interested in the different types of posts we write, TAKE A LOOK AROUND our site.
PIN IT!

SaveSave
SaveSave
SaveSave
SaveSave