Our quick guide to New Orleans
New Orleans, a vibrant, gutsy city with massive amounts of kerb appeal. Within our quick guide to New Orleans, we cover all the essentials. What to see, do, eat, drink, getting about and where to stay.
This lively city is located in the State of Louisiana and named after the Duke of Orleans. New Orleans is probably most famous for its Jazz, Mississippi steamboats and its distinct and unique architecture. These beautiful buildings incorporate both French & Spanish elements and are stunning. Also, have you heard about the cemeteries, the jambalaya, Po Boys and of course Voodoo? All in all, with so much to offer, you are sure to fall in love with New Orleans. As a matter of fact, it's one of our favourite cities in the States. Probably because it is unique, special and very different. Oh and that Southern accent… it oozes charm!
Take a look at our quick guide to New Orleans. Additionally, if you are a foodie, see our SPOTLIGHT on New Orleans. Here you can find our top recommendations for authentic eats.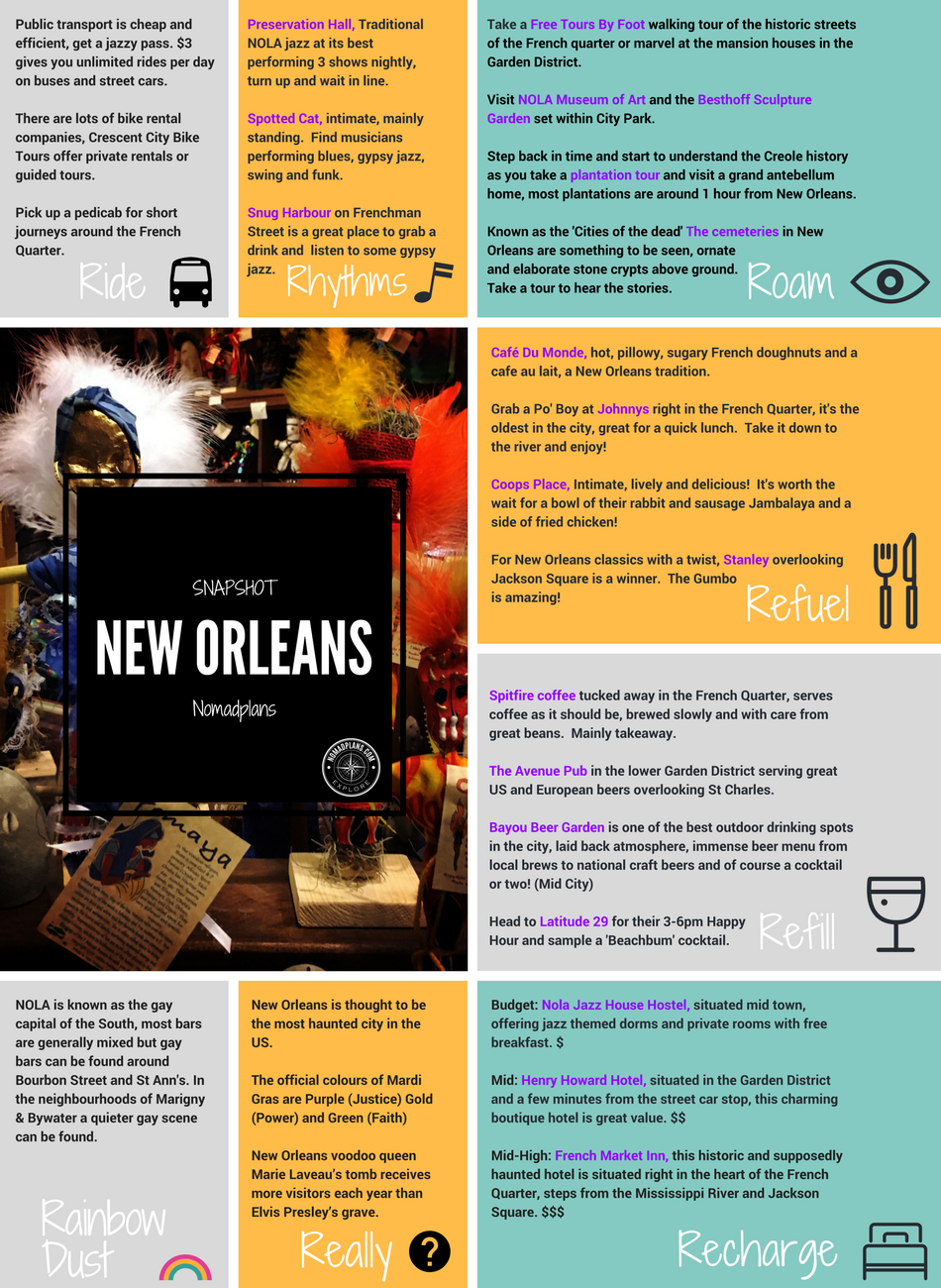 How will you spend your time?
As you can see, there is so much on offer in this great city. We particularly enjoyed the free walking tours. The guides are fantastic! If you are looking for someone who knows their stuff and is passionate about their city, look no further. Our Garden District and Cemetery tour were brilliant. Additionally, the Voodoo tour was exceptional. We thought we knew a bit about Voodoo, actually, we didn't!  You will need to book ahead, it is well worth your time and "tip."
Another highlight for us was the Besthoffs outdoor sculpture collection in City Park next to New Orleans Museum of Modern Art Gallery.  This eclectic mix of artwork is well worth the visit. It's just a trolley ride away and free! It was wonderful to stroll around the park, admire the art and take a break from the hustle and bustle of the city. Take a picnic and relax. Although Besthoffs is on a much smaller scale, it reminded us of the Yorkshire Sculpture Park, in the UK.
We will definitely be returning to New Orleans. It is a city which has managed to put itself back together, on more than one occasion… People are resilient, rightfully proud of their roots and welcome everyone with open arms.
We hope you have found our SNAPSHOT, a quick guide to New Orleans useful.
Pin it!
If you are interested in the different types of posts we write, TAKE A LOOK AROUND our site.

SaveSaveSaveSave
SaveSave
SaveSave