Zoom in Vilnius city guide
Lithuania, along with Latvia and Estonia are collectively known as "The Baltics." Consequently, there is much healthy competition between the three countries. As a matter of fact, all claim to be the best, not to mention being "first" at everything! Lithuania gained independence from Soviet Rule in 1990. It is home to 3 million people, 550,000 of which reside in the beautiful capital city of Vilnius. Their horizontal striped flag of yellow, green and red represents sunshine, nature and bloodshed.  Some of the suggestion in our Vilnius city guide will help you to understand the Baltic's complex history.
Life has been turbulent for Lithuanian people, who have been subjected to atrocities, hardship and constant change. As a result, this is a country which is fiercely proud of its heritage, traditions and culture.
Ironically, strolling around Vilnius today, you could be forgiven for assuming life has treated the Lithuanians well. This is a charming, quiet and peaceful city. It is only when you take time to understand their history, to learn about the impact of Soviet, German then Soviet rule that you can begin to appreciate what a remarkable country Lithuania is. Ultimately Lithuania has overcome tremendous adversity, challenging its situation and rising up to become the proud country we see today.
We spent 4 days in Vilnius, coupled with a 12-hour bus tour to Riga, Latvia's capital which incorporated stops along the way. This gave us the opportunity to appreciate how lovely the Lithuanian landscape is, lush, green and peppered with tiny villages. As a result, we would definitely recommend combining the Baltic states.
Take a tour
All things considered, the best way to see and learn about Vilnius, is to take a tour. We chose a free tour, operated by locals, after which you are encouraged to tip accordingly. Our guide, Milda, was fantastic. She provided an overview of Lithuania's history, took us to various spots of interest and shared her stories. Informative, yet fun. If you don't know much about Lithuania, or Vilnius, we would recommend partaking in a tour. It's imperative to be able to put things into a context. The tour provided us with much needed, valuable insight. In addition, we returned independently, to parts of the city we enjoyed on the tour.
Christianity, Lithuania's first religion, followed by basketball and beer!
Vilnius's old town is home to around 28 churches, almost all of which are now used for worship. Under Soviet rule, all were used for alternative purposes, including gymnasiums! Why so many? In short, because Lithuania wanted to catch up with Europe. Originally, Pagan, Lithuanians were encouraged to become Christians with the lure of a woven shirt. Lithuania became a Christian country in 1387. You can see reference to Lithuania's Pagan roots represented by the statue of "Medeina" a Lithuanian Pagan Goddess. Located in a small courtyard. Marius Grusas' sculpture of a naked woman, riding a bear is displayed in view of his own residence.
Many of the churches, all different in size, style and grandeur are beautiful. We were fortunate enough to hear various choirs as we wandered through the town, the strong tradition of singing clearly audible in their stunning, sacred renditions.
Most noteworthy is St Anne's Church, claimed by some to be the most beautiful in the Baltics. Its impressive burnt orange, gothic exterior, creates the impression of being alight with flames. Also, the Cathedral is not to be missed. Beautifully designed by Laurynas Gucevicius, notably, the same architect responsible for the town hall. This stunning building dominates a lovely plaza, where you can also stand on the "stebuklas" as well as climb the bell tower for an elevated viewpoint.
The Baltic Way
On the 23.8.89, a human chain, starting in Lithuania and passing through Latvia and culminating in Estonia formed. Known as "The Baltic Way," 2 million people stood together to create a human chain. Ultimately, this was a powerful statement by the Baltic people to the Soviet Government in their bid for independence. It is said, that your wish will come true if you turn 3 times on the "stebuklas" tile. The belief being, if the wish for independence was granted, anything is possible.
Gedeminas Tower
Climb the Gedeminas tower for spectacular views of the city. Considered an important historical symbol in Vilnius and Lithuania, it now houses a museum. Depicted on the former Lithuanian currency, and bearing the Lithuanian flag during the independence movement, it is the remaining part of the upper castle, rebuilt in 1930. It is also possible to take a funicular to the top. Note there are lots of steps along the cobbled path. It is well worth the climb for unparalleled panoramic views of Vilnius, old and new.
Uzupis
A self-proclaimed republic, on the 1st April (make of that what you will) Uzupis is a fascinating Bohemian area inhabited by artists and creative souls. Adhere to these 3 rules; smile, 20mph speed limit (or you will end up in the river) and admire the art. Originally fairly rundown, this is now a trendy, sought after area to live and a UNESCO world heritage site. Take time to wander through the streets and admire the artwork. Close to the river, check out the Backpacking Jesus statue or if you are looking to be inspired, sit under the silver windmills. To find out more about the origins and history of Uzupis click here.
The constitution of Uzupis is displayed in 27 languages, with space for more. I particularly liked rule 14 – "Sometimes everyone has the right to be unaware of their duties."  In addition, don't miss the Angel Of Vilnius. Apparently the artist, Romas Vilciauskas failed to complete the statue for the deadline, so creatively, an "egg" was unveiled from which the Angel would be born. The egg is now near to the bus station.
Uzupis is a special part of Vilnius, so prioritise visiting this area if you are on a tight schedule.
Literatu Street
The walls of this fascinating street are adorned with plaques, devoted to authors who have, in some way made reference to Lithuania. This has resulted in a colourful, unique, mosaic style collection which even includes a set of false teeth, perhaps suggesting everyone should be quiet at times!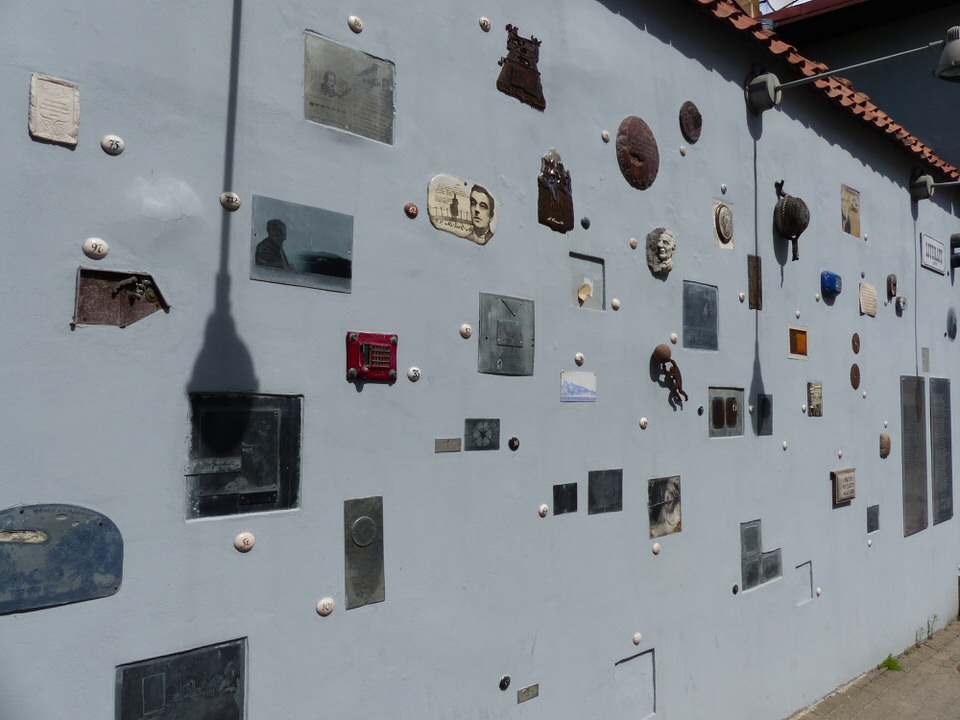 The Palace of the Grand Dukes of Lithuania
Is history your thing? If so, visit The Palace of the Grand Dukes Of Lithuania. Here you can view extensive ancient ruins and excavated artefacts. In addition, the ceremonial halls which demonstrate the evolution of architectural styles and the treasury hall are a highlight.
Contemporary Art Gallery
For modern art lovers, a visit to the Contemporary Art Gallery is a must. The largest in the Baltics, this non-collective based space is committed to developing a broad range of Lithuanian and International exhibitions.  It is also host to a diverse programme of public events.
Museum of the Genocide Victims (KGB Museum)
For many people, a visit to The Museum of Genocide Victims (KGB Museum) is a priority whilst visiting Vilnius. Here you can see the former KGB prisons and torture chambers, where death penalties were implemented and learn about the persistent, self-sacrificing fight for independence. It is essential that we learn valuable lessons by acknowledging the atrocities of the past.
The Gate of Dawn.
One of the most important religious, historical and cultural monuments of Vilnius, the Gate of Dawn, constructed between 1503 and 1522 is the only remaining gate of the original nine. The Gate contains an icon of the Blessed Virgin Mary. The revered painting which is said to have miraculous powers is visited by pilgrims from neighbouring countries. We were fortunate enough to bear witness to spontaneous singing, from 2 choirs, in front of the gate. A stunned crowd stood in awe, captivated by the melodic harmonies.
Trakia
If you have time, Trakia, home to a gorgeous Medival castle, standing proudly on Lake Galve is well worth a trip due to its beautiful location. Just half an hour outside Vilnius (by public bus €2) we spent a lovely afternoon wandering around the lake. You can hire a pedalo, or wakeboard if you are feeling energetic, or take a boat trip or relax and enjoy some lunch overlooking the water. To learn about the castle's construction, visit the castle museum.
Lithuanian Food
Ask any Lithuanian about traditional food and the word "potato" will almost always come up. Generally speaking, the country loves potatoes. Seems like, whether they're mashed, roasted or boiled, wrapped around meat, vegetables or otherwise, it's all good!  If you're really hungry, try the Cepelinai, potato dumplings filled with meat or cottage cheese.  For lunch the beetroot soup is delicious, served cold, the name is unpronounceable, just remember 'pink soup.'
However, if you want a snack to soak up those beers, the Kepta Duona (fried bread sticks with cheese) is delicious.  Topped only by Christianity and basketball, "beer" is the third religion of Lithuania. Beer menus are prolific, craft beers a speciality and you are always welcome to try before you buy, as far as draft is concerned.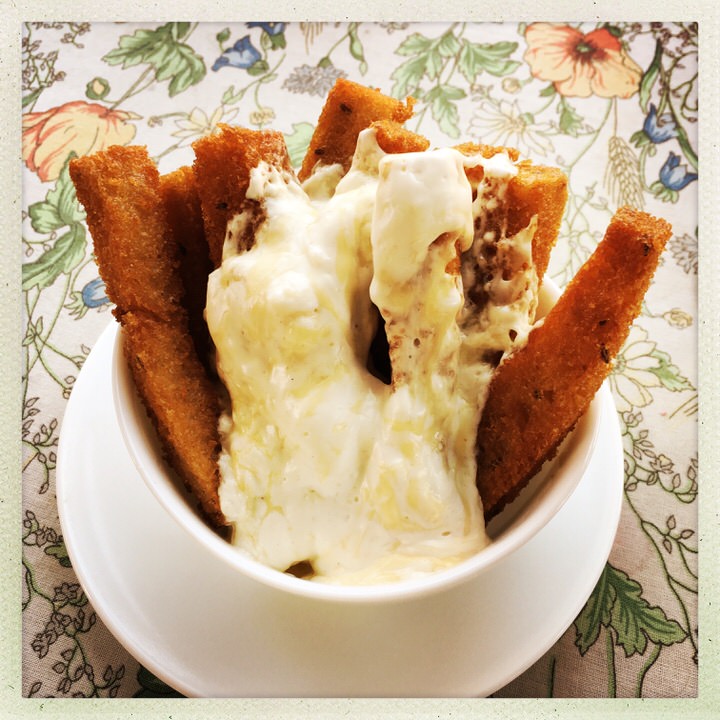 Culture Night
We planned our visit around being able to experience "Culture Night" which we would thoroughly recommend. This annual event, held mid-June, presents a diverse and eclectic program of events across the city. All the museums and galleries and many of the churches are open until midnight, free of charge. There was a real buzzy atmosphere in the city, as hundreds of people took advantage of specialised, one-off events. While many people seemed to welcome the chance to see and do something different. From live heads in boxes to weaving demonstrations. Also, traditional singing featured as well as dancing, street theatre and choir presentations. It was a brilliant night, and ultimately worth planning ahead for.
Also celebrated in June, is the "Zolynu Turgus" (The Grasshopper Market.) A lovely market where local people sold specialised handicrafts, goods, food and drink. Some stallholders wore traditional clothes and flowers in their hair. There was a really lovely atmosphere, hence definitely worth a visit.
A great trip!
All in all, we had a fabulous time in Vilnius. This is definitely a city we would recommend visiting. Culture Night, made it for us, a chance to see something unique and different. Although there is plenty to do and see if you can't coincide with this special yearly event. Midsummer is huge in the Baltics, yet another reason to visit mid-June!
Following our time in Vilnius, we headed off to Latvia, taking a fantastic 12-hour tour. For the most part, this was a fun and convenient way to get to Riga. To begin with, we visited the hill forts of the ancient Lithuanian capital, Kernave. Next, we travelled to the lovely city of Kaunas. We also saw the Hill of Crosses, Rundale Palace and the Salaspils Holocaust, Memorial Park. Our driver and guide, Olga was brilliant, due to the fact she was extremely knowledgeable and friendly. Furthermore, she was happy to answer all our questions and knew much about the history of the Baltics.
Pin it!
We used the Lonely Planet Estonia, Latvia & Lithuania (Travel Guide)
 to help plan our trip.
Thank you for reading our ZOOM IN Vilnius city guidepost. TAKE A LOOK AROUND to see the different types of posts we write.

SaveSave
SaveSave
SaveSave
SaveSave
SaveSave
SaveSave
SaveSave
SaveSave
SaveSave
SaveSave
SaveSave
SaveSave
SaveSave
SaveSave
SaveSave
SaveSave