Food and Drink in New Orleans, where do you begin?
What do you get when you blend a rich history, a cup of contrasting cultures, a splash of different traditions and a pinch of salt?  Delicious, delectable, Deep South food!  New Orleans offers a veritable feast for foodies. In this SPOTLIGHT on Food and Drink in New Orleans post, we've decided to highlight the "must eats." In addition, we have recommended a place to try them.
For Starters…
Jambalaya
A rice-based dish with Spanish and African origins. Can contain anything at all… if it's red, it's spicy! We loved Coops, packed full of locals the tables are close together and the bar is full. Rabbit and Andouille sausage Jambayla is on the menu here. Also, order the fried chicken on the side, amazing!
Muffuletta
A reminder of New Orleans rich Italian history. The French Quarter deli Central Grocery created this mighty meaty sandwich. Take a few slices of Sicilian bread and stack high with Italian meats & Provolone cheese. Looking for a great addition? Order an olive salad, fabulous!
Fried Chicken
Originating back in the 18th Century, fried chicken is now a New Orleans staple. There are lots of good options but for the best try Willie Mae's Scotch House. Family owned since the 1950's, it's delicious. Open during the day.
Crawfish
A poor man's meal. Or so it used to be! Found in the swamps of Louisiana, Crawfish is now considered a delicacy. Often added to pies and stews, but for the real deal eat it boiled, with spices and served with potato & corn. There's a ton of great places all around the city.  Try Clesi's for a late night fix!
And then…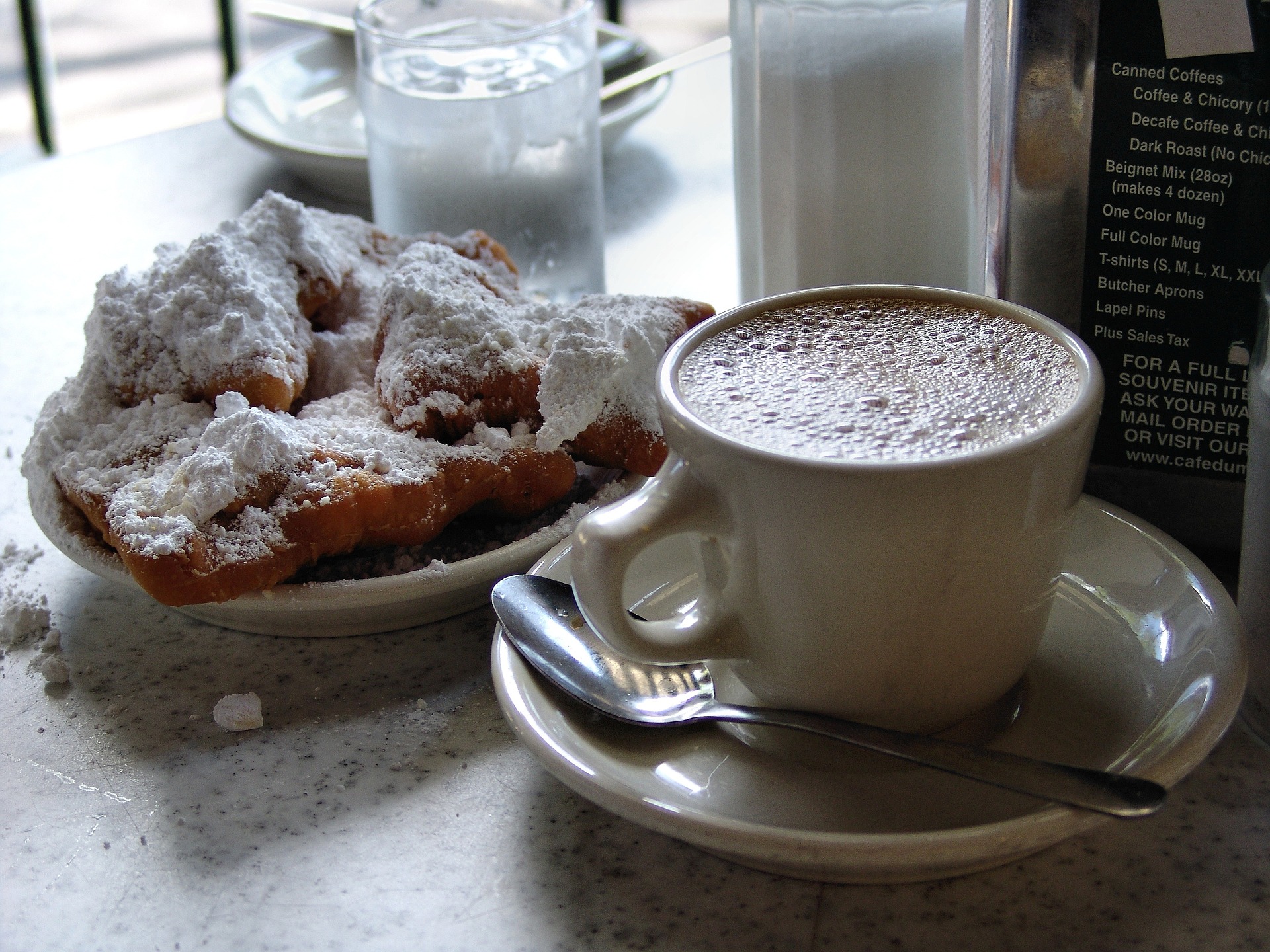 Beignets & Cafe Au Lait
It has to be Café Du Monde. Sit at one of the many outdoor tables or order "to go," from the serving hatch. The gorgeous fluffy beignets are a New Orleans institution, for a great pairing, try with the chicory coffee.
Bananas Foster
Brennan's is the go-to place for this famous banana, caramel and ice-cream dessert. After all, they invented it! If you love banana splits, prepare to upgrade!
Turtle Soup
This popular New Orleans classic is made from local alligator snapping turtles, which are not endangered. We didn't try this personally, but hear Commander's Palace is the place to give it a whirl.
Pralines
Pecans caramelised with a sugar and cream base… These beauties are so, so good but so, so bad! Although aren't nuts a superfood? Try Leah's Pralines in the French Quarter. These are great gifts if you want to take a piece of  New Orleans back home. Providing they make it out of the hotel!
And what about…
Gumbo
It's looking like "gumbo" weather… This is what the Louisianan's say when the weather is turning nippy. What better way to warm up than with a big bowl of this rich stew? Chicken or Andouille sausage is popular and it's always with rice. Is there a substitute for Mama's home cooked special? Probably not but try The Gumbo Shop.
Po Boy
Another classic which was once thought to be for the poor, if it looks like a sub or a roll, it's not the real deal. A true Po Boy is served on a hunk of French bread, topped with whatever. Ask for it "dressed" if you want all the trimmings. Try Johnny's or Verti Marte corner store.
Red Beans and Rice
Monday is the traditional night to eat red beans, whilst mamma puts her feet up. (Or maybe does the washing…) You can get it anytime though, it is usually cheap and spicy. Try Joey K's.
Oysters
Eat at Drago's at the Hilton Hotel. Apparently, they serve over 900 dozen, daily! So, ultimately, they know what they're doing! Grilled with garlic butter and herbs then drizzled with cheese… legendary! Booking ahead is essential.
Is your mouth watering?
As you can see, when it comes to food and drink in New Orleans, there is certainly a lot to try.
All in all, you will be spoilt for choice when it comes to dining out. The cuisine is quite unique… will you give it a try?
Pin it!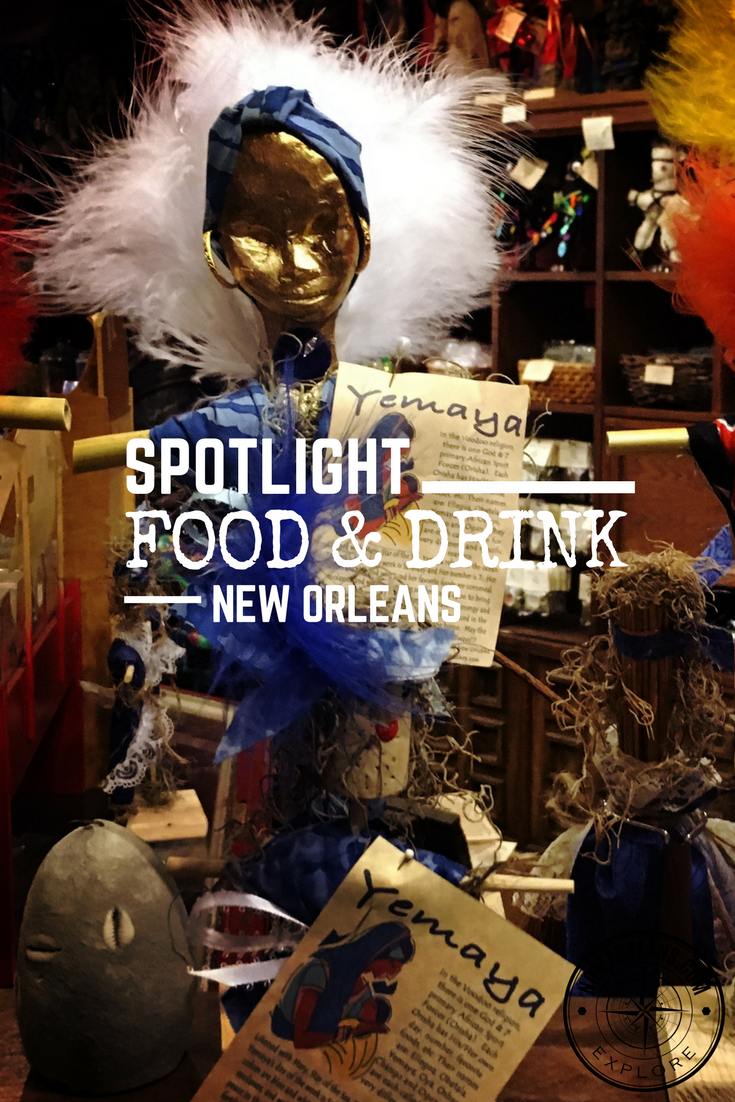 Thank you for taking the time to read our SPOTLIGHT on food and drink in New Orleans post. In addition, if you are planning a trip, check out our SNAPSHOT quick guide to New Orleans.
Finally, if you are interested in the different posts we write, TAKE A LOOK AROUND our site.

SaveSave
SaveSave
SaveSave
SaveSave