Getting to Chichen Itza from Merida
Chichen Itza, one of the new seven wonders of the world, an ancient Mayan metropolis, iconic and truly spectacular. Chichen Itza was definitely on our hit list during our recent trip to Mexico. We visited from Merida, without an organised tour, using public transport. If you prefer to do your own thing, in your own time and want to save the cost of a tour, read on.
We had a fantastic day and at under 500 pesos each, a bargain!
Step 1, decide on your preferred type of bus
There are two bus options when getting to Chichen Itza from Merida. You can travel first class with Ado at 6.30am, 8.30am or 9.30am. This takes 1 hour and costs around 150pesos. The return time is 5.20pm.
Alternatively, you can take the 2nd class bus with Oriente, taking 3 hours costing 95 pesos. They run every hour to Chichen Itza and return 10 past the hour. Although return buses stop after 5.20, you can take a different bus to Valladolid (3km from Chichen Itza) and get a later return to Merida there. There are also later options from "Piste" 1km from Chichen Itza. 
We decided to take the 8.30am first class Ado bus to Chichen Itza and returned on the 1.10pm 2nd class Oriente bus back to Merida. Although the return journey is longer, you travel through lots of small villages which is far more interesting than the highway! We found 3 hours more than enough time to explore the sight, in a relaxed way. 
Get an audio app
We downloaded a fantastic audio tour app "MXPLOR Chichen Itza" for 99 cents. This offline guide proved invaluable. Informative, interesting and just the right amount of information. A useful interactive map and "location" finder made for a great tour. Kerry's Apple AirPods
came into their own, as we could have one pod each and listen simultaneously. I can't recommend this app highly enough! Alternatively, you can hire a guide at the entrance.
Merida Bus Station
Merida bus station comprises of 2 separate buildings, one for first and one for 2nd class buses. You can buy first or second class tickets in the 2nd class terminal. First class tickets can also be bought in the first class terminal, but not second-class tickets.  Just be aware that the ADO 1st class bus station CAME is behind the 2nd class station.  It can be a bit confusing.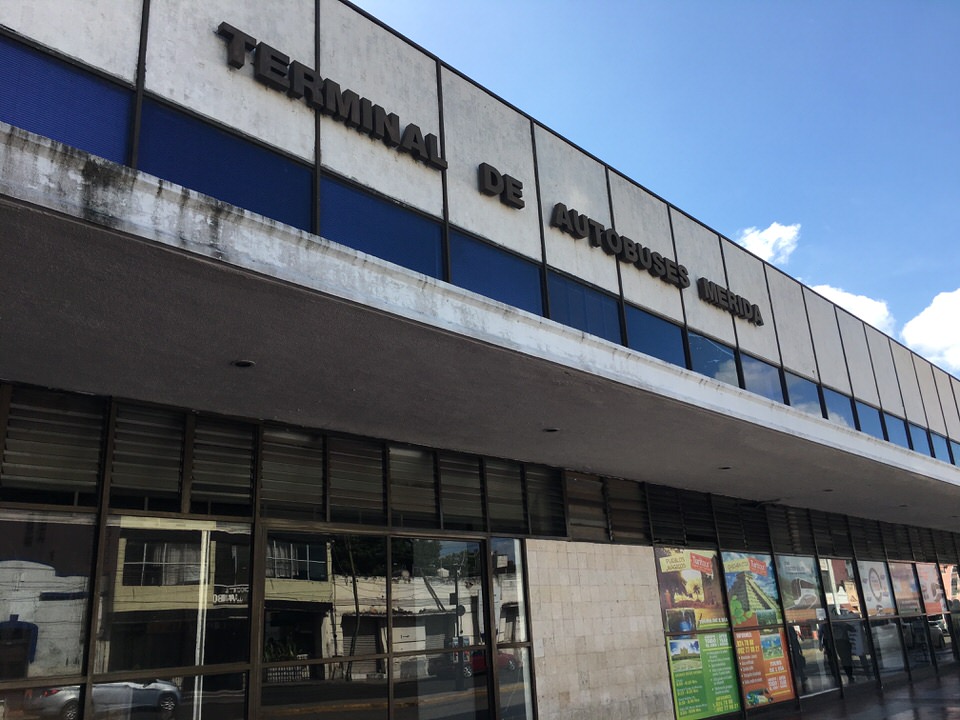 We bought our first class bus ticket the day before we travelled from Merida to Chichen Itza and paid the driver for the 2nd class ticket on the day of our return to Merida. We didn't know how long we would stay at the site, so did not pre-book our return journey. 
Pick up and drop offs
Both bus stations in Merida are well organised and offer a variety of snacks for purchase. WiFi is available, toilets cost 5 pesos. Boards clearly display bus, departure time and "platform." Be there 15 minutes before departure time.
Pick up at Chichen Itza
Buses depart from the "tree" at the same place you disembarked the bus. We were slightly concerned about the lack of official looking bus stop, but need not have worried. The bus was punctual although be aware, it might not have the correct destination displayed… Our 1.10pm Oriente bus said "Cancun" but as it was 1.10pm, I asked the driver who informed me that Merida was in fact where he was heading. Having spent much of my youth using public transport in Liverpool UK, where drivers of the 79 bus rarely changed their sign, I've learnt to exercise a bit of common sense and check!
Useful to know
It costs 242 pesos (2018) and is free for Children under 13, students, teachers and seniors with valid credentials.
On Sundays, the entrance is free for Mexicans and residents.
The site opens at 8 am.
You can hire a guide at the entrance to the site
There is a restaurant, toilets, lockers, snacks and other small stalls/souvenir shops before you enter the site. Souvenirs can be bought on site too and are "almost for free…"

 

The site is quite spread out and involves a fair amount of walking, comfy shoes a must!
Dress accordingly for the time of your visit. There is little shade or shelter! Take ample water/sunscreen etc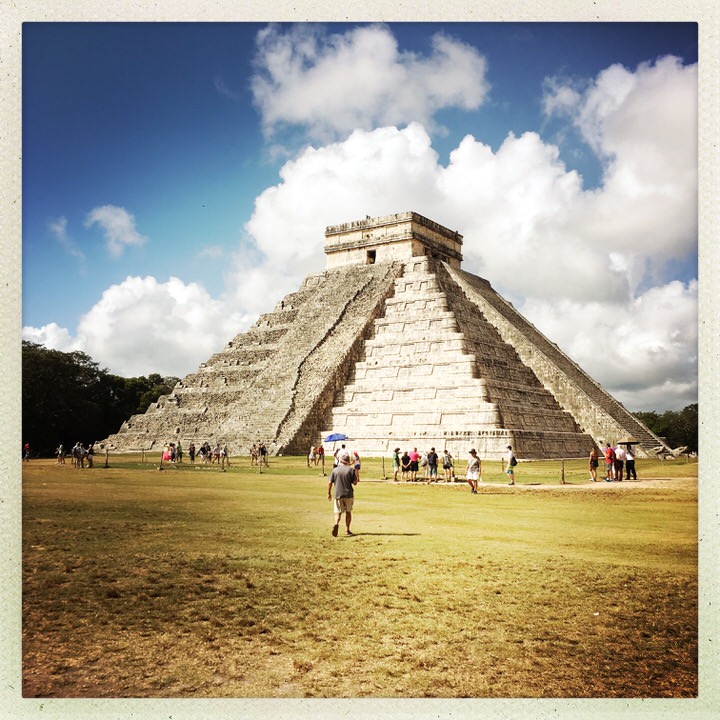 To conclude
Kerry and I had a wonderful time exploring the marvel that is Chichen Itza. We loved the freedom of travelling there ourselves and liked that we were in control of our own schedule. It really is a special place and rightly deserves to be named one of the new 7 wonders of the world. We have just one more to see… Petra in Jordan!
Thanks for reading, if you are interested in the different types of posts we write, TAKE A LOOK AROUND our site.
PIN IT!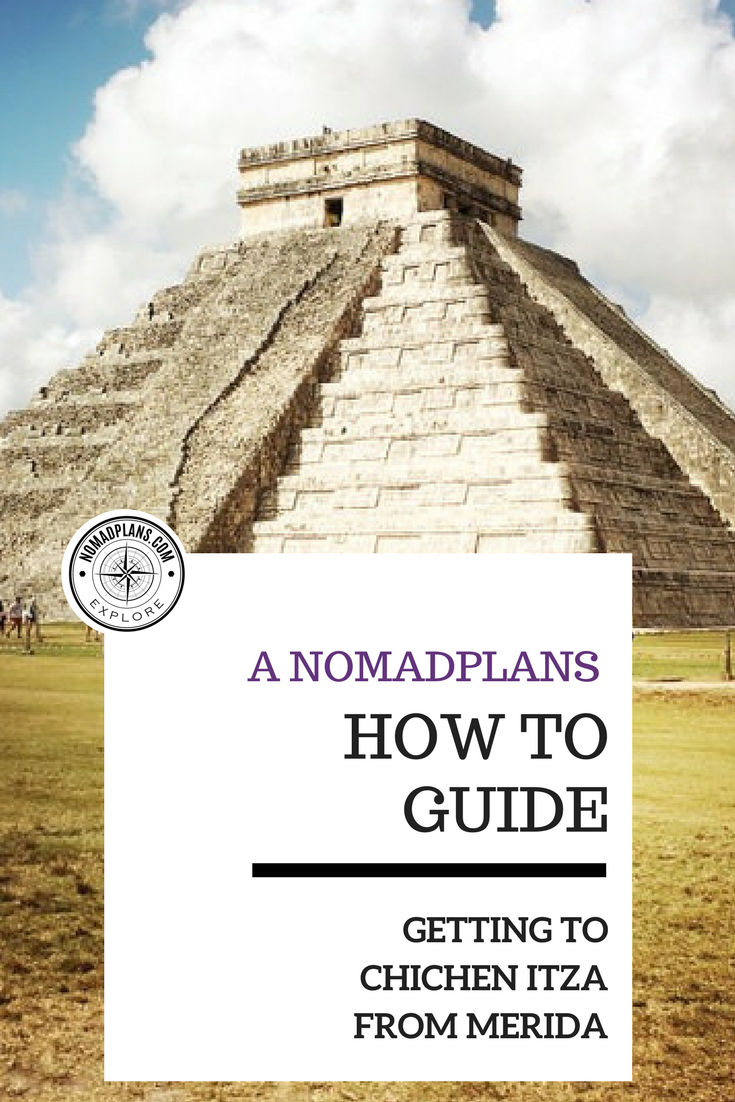 If you are visiting Mexico City check out our best Taco Tour guide, or if you are heading to San Cristobal find out how you can visit San Juan Chamula, a fascinating town just 25 minutes from San Cristobal.