Getting to Palenque Ruins from Palenque Town
Palenque Ruinas, shrouded in mist and mystery, a spectacular UNESCO World Heritage Site which showcases the ingenuity, talent and architectural genius of the Mayan civilisation.
Many tours operate from Palenque town To Palenque Ruins, but if you like to see things at your own pace in your own time, getting to Palenque Ruins couldn't be easier.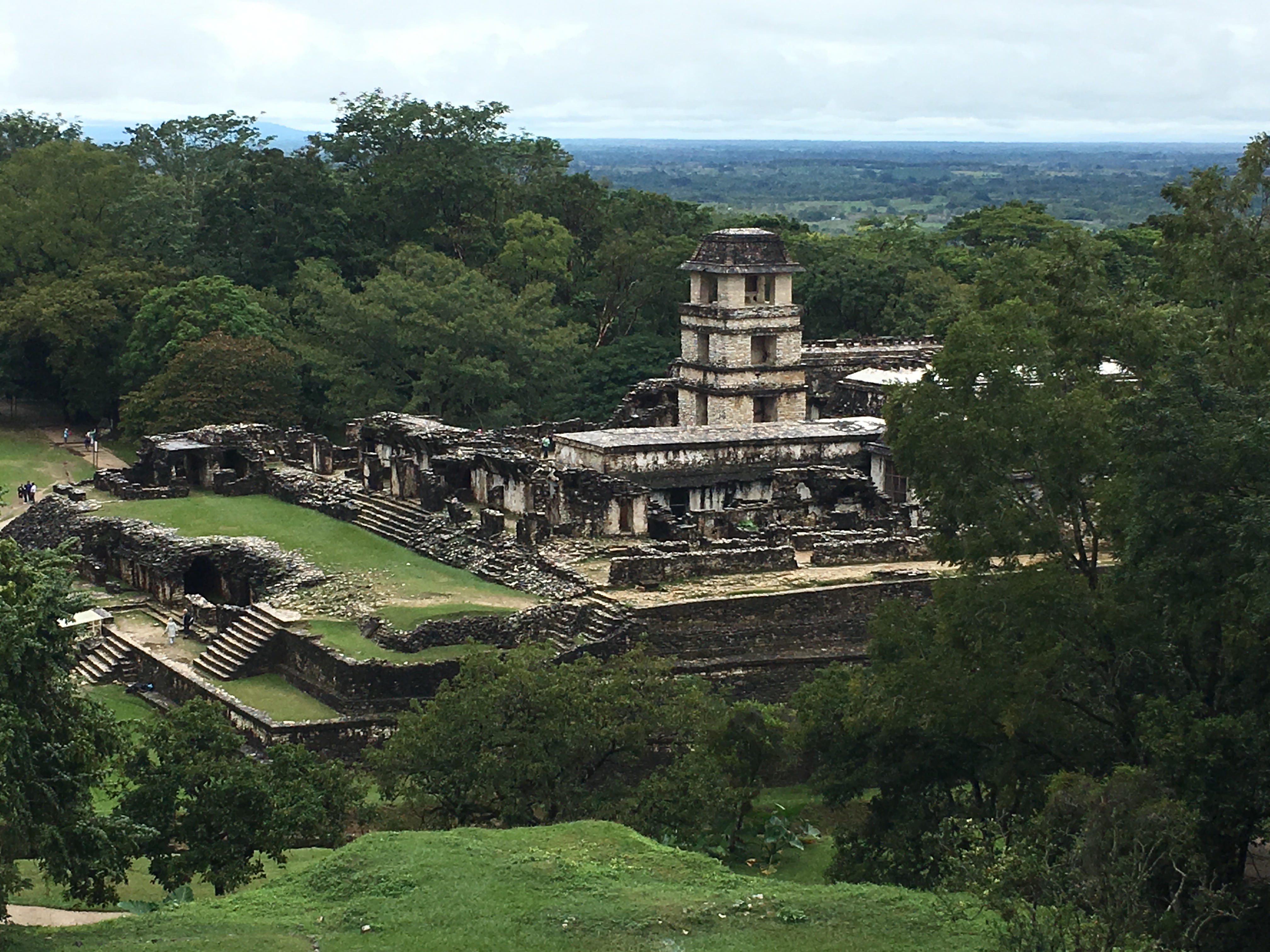 DIY Ruinas
Take a collectivo from the corner of central, it will say "Ruinas" on the front. You can also pick up the bus outside the Ado bus station or stop it anywhere on the road to the ruins. The collectivo costs around 25 pesos.
As you enter the National Park, the bus will stop and you must purchase a wristband. This costs 35 pesos and affords you entry in and out of the park all day.
Then you will travel to the ruins, passing El Panchan. The first stop is the museum, don't get off the bus here – you can take a scenic path to the museum from the ruins, and walk the path downhill!
Alight at the Ruins and purchase a ticket, this costs 75 pesos.
Enter the Ruins and stroll about at your leisure. Wide accessible paths link the ruins, some of which you can climb up onto for panoramic views. Look out for what looks like plastic "covers" these protect some of the best-preserved features. Also, take care when wet! Information boards are available to read in English and Spanish, alternatively, you can hire a guide at the park entrance.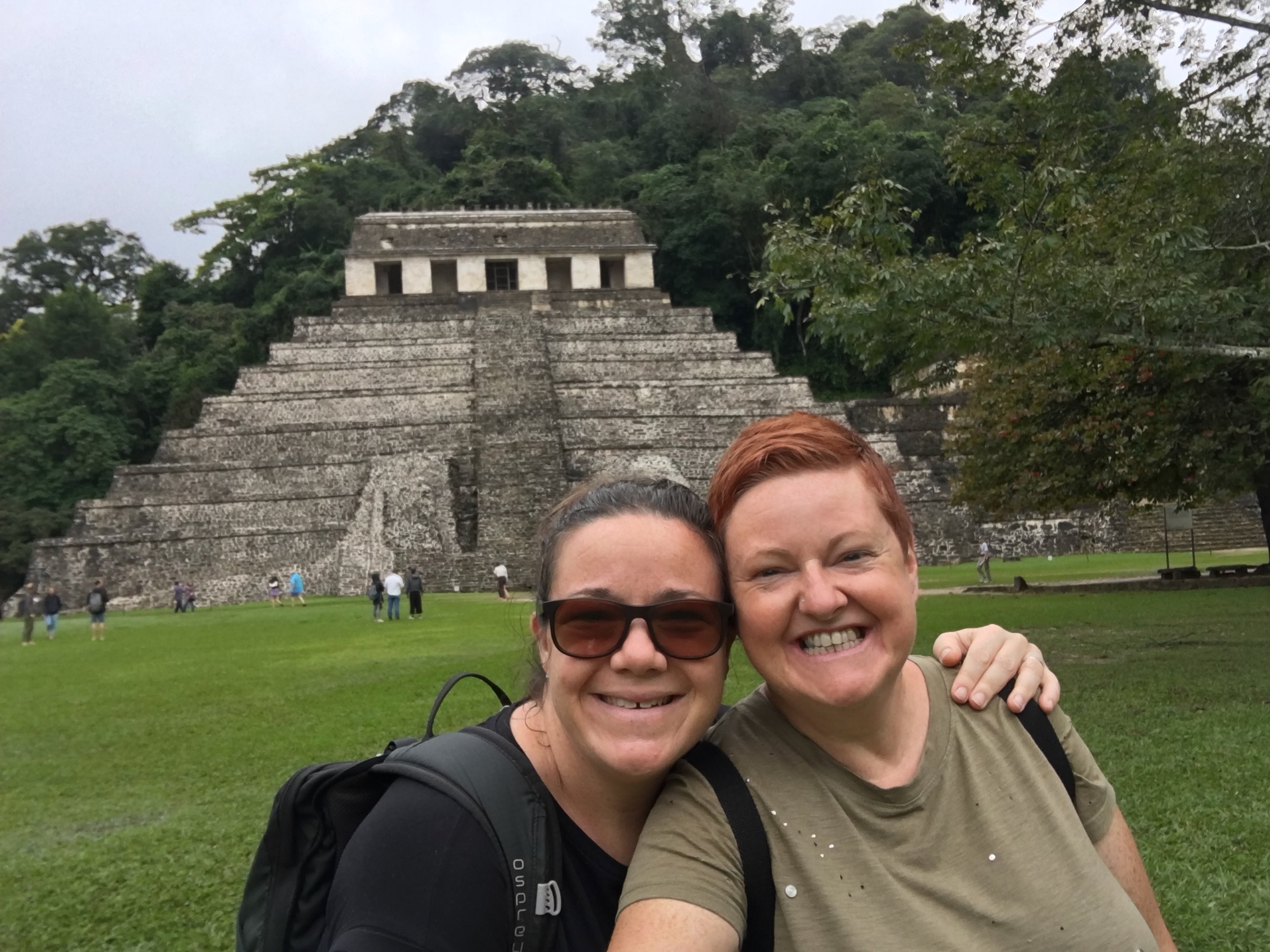 Jungle Walk
When you have finished looking at the ruins, don't miss the "jungle walk" through the rainforest to the museum. This beautiful path takes you past waterfalls and smaller ruins. We enjoyed this verdant walkway as much as the ruins! Although quite steep in parts, steps and paths are in great condition. After a leisurely 30 minute stroll, you will arrive at the museum. We didn't go in, instead, picking up a collectivo heading back towards Palenque town.
El Panchan
We decided to get off the bus at El Panchan. It was an area we had considered staying in, so wanted to check it out. El Panchan is a small "compound" in the forest, there are several places to stay and eat. It has a hippie vibe, an alternative hang out for those seeking a laid-back feel. Paths studded with glass nuggets link the various establishments – enjoy a massage or get a tattoo! We enjoyed some lunch at Don Muchas – the stone baked pizza is renowned in the area, unfortunately only available after 3 pm. We'd suggest visiting after 3 pm for the full menu, before that it is somewhat limited.
Following our meander around El Panchan, we picked up a collectivo from the roadside and headed back to Palenque Town. (Cost 20 pesos) A fantastic day, we thoroughly enjoyed the ruins and were glad we had taken things at our own pace, no tour necessary!
Thanks for reading, if you are interested in the different types of posts we write, TAKE A LOOK AROUND our site.
If you want to visit Chichen Itza from Merida see our How-To Guide.  Or if you are heading to San Cristobal check our review of the Sumidero Canyon.
Pin It!

SaveSave
SaveSave