Getting to Chamula from San Cristobal
Chamula is a charming, quirky town approximately 30 minutes from San Cristobal and definitely worth a visit, particularly on a Sunday, when the local market is in full swing. Visiting Chamula was one of the highlights of our trip to Mexico, it was certainly a very different experience and felt like the real deal…
Chamula is really easy to get to on a local collectivo. Make your way to the corner of 16D September/Honduras and look left to see a large sign, for the bus station. Hop aboard a clearly marked van and when it's full, off you go. The fare is approximately 25 pesos and is collected when you disembark. The van drops you off in the centre of town, in what looks like a car park. It is here that you pick up the return to San Cristobal.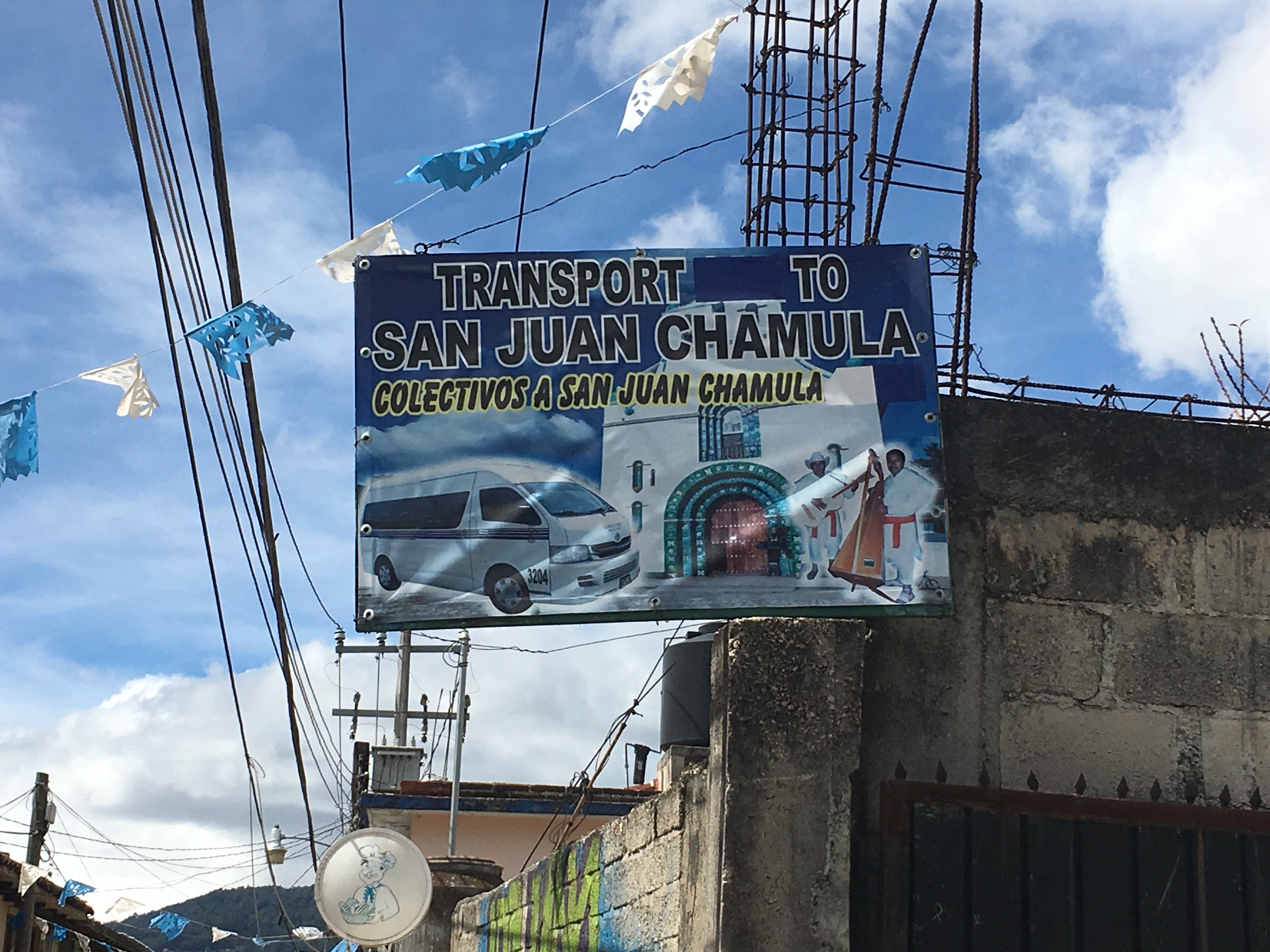 Looking for a woolly skirt or a chicken?
We visited on a Sunday. The market is fascinating, a real feast for the senses. All and sundry can be bought here, from fruit and vegetables to black woolly skirts, chickens, mobile phone covers, huge spring onions and wooden crosses. Goods are proudly displayed, some on blankets, others upon a stall. Everyone is selling something, the atmosphere is charged with enthusiasm, positivity and cheerfulness. Expect to haggle, be respectful if taking photographs and remember this is a market for local people to trade, not a tourist attraction…
As well as the market, we visited the phenomenal local church, dedicated to St John the Baptist. (Iglesias de San Juan Bautista) Its facade is stunning. White accented in green and beautiful doorway decorated with multicoloured butterfly and flower patterns.
The square in which it sits is pulsing with local life. People gathered to listen to music, share food and put the world to rights. In order to visit the church, you will need to buy a ticket, find the office to the left of the building – it costs approximately 50 pesos.
A unique and special church
Having been in many churches around the world, I thought I'd seen it all. But no, this church with its unique blend of Catholicism and Mayan traditions is like no other I have visited. The floor is covered in pine needles, to remind people of a time when ceremonies took place in the forests. Running along the sides of the church, are tables, bowing under the weight of thousands of lit candles.
Flowers and Saints
Saints line the walls, adorned with beautiful floral tributes. There are no pews or benches. Small groups of people, instead sit on the floor. Each party had cleared a space amongst the pine needles to light candles, which they stuck to the floor, in rows. Chanting and singing could be heard, and various objects, including coke, were being waved about the candles to be blessed.
Doctors and chickens
We saw a "doctor" a curandero ceremoniously swirling a live chicken around a woman's body. Apparently, her "illness" would be transferred to the chicken, which would then be killed, along with her sickness.  It is also possible to hire a local guide at the church door.
Doing things their own way
As we wondered about the church, I was struck by how engaged each group were in their own personal activities. There was no sense of collective worship, each set of people were very much involved with there own "purpose" for being there. No priest, as such, or service. The church was being used by the people as they wished it to be, in their own unique way.
Seeing something different
Visiting Chamula was a really special experience. The market, the resourcefulness and ingenuity of the people. The colours, chitter chatter and banter. The church and it's "congregation" an unexpected glimpse into an ancient but very much living culture. If you are in San Cristobal, don't miss this fascinating town, Chamula is charming and delightful, unique, quirky and boasts a church unlike any other I've experienced!
Be aware!
Printed on your church entrance ticket, are a list of rules. Tempting as it is to take photographs, this is strictly forbidden and will result in "punishment." Be prepared to feast your eyes upon all that you see, lens-free… it is sure to make a lasting impression and create a special memory.
PIN IT!
Thanks for reading, if you are interested in the different types of posts we write, TAKE A LOOK AROUND our site.
If you are visiting Mexico, check out our other posts, including the best taco tour in Mexico City and visiting the Sumidero Canyon!