Best cooking class in Havana!
Do you want to learn how to cook with the experts? Are you interested in learning about Cuban cuisine and its many influences? Do you want a "hands-on" experience and then to delight in the results of your hard work? If yes, then try the best cooking class in Havana at the acclaimed Cafe Ajiaco!
Cafe Ajiaco, is a special place. The management really cares about their staff and the whole team are like a little family. Everyone is extremely welcoming and friendly, we had lots of fun during our cooking experience and felt very relaxed and well looked after. The food was wonderful, it's the best cooking class in Havana but for us, the staff really are the jewel in the crown! It was great to hear that those who are taken on as apprentices are often offered a job and that Cafe Ajiaco invests in their employees future. A happy staff makes for a great working environment which is a positive for everyone!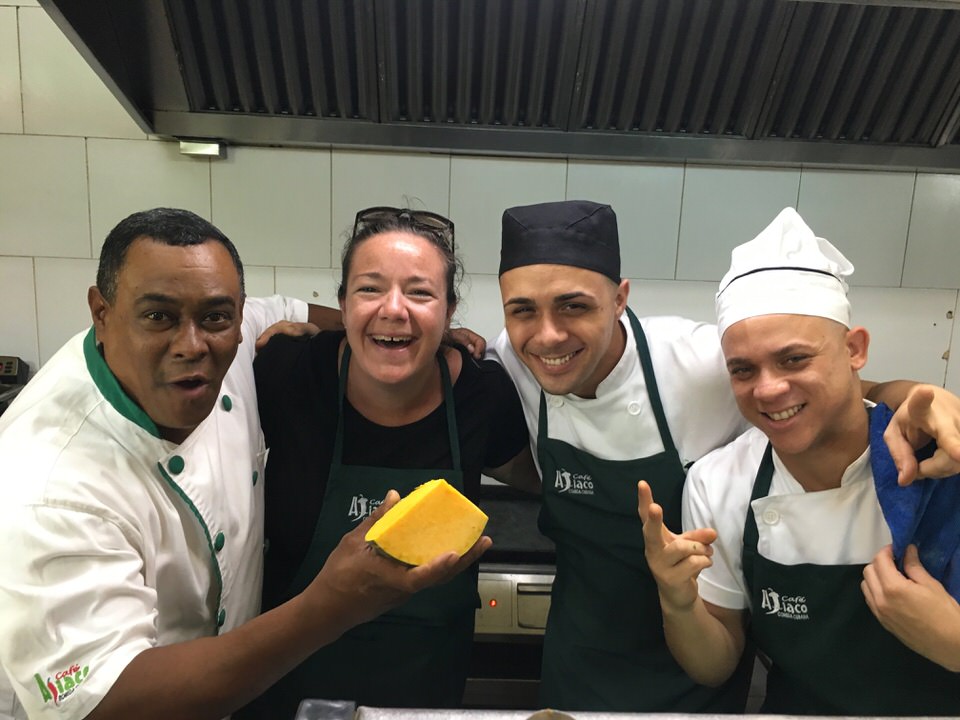 The Organic Garden
Before our cooking class, we were taken to the organic garden where Cafe Ajiaco sources their fresh ingredients. This was a wonderful opportunity to learn, firsthand, from brothers Julio & Jesus who own and live on the land with their family. The garden is amazing and a real source of inspiration.
A huge selection of fresh vegetables, fruits and herbs are grown which feature in the dishes and mojitos! I was really impressed with how plastic bottles are used to create planting areas. In addition, we saw an ingenious invention, from Jesus using reusable, recycled bottles to grow saplings! It was great to hear that the garden benefits the whole community and supports helping local school children to learn about growing produce. Everything is grown with great care, even the compost is organic. A visit to this lovely garden was a fabulous start to our best cooking class in Havana!
Ajiaco Stew
To begin with, we found out about Cubas National dish, Ajiaco, a kind of stew which has changed and evolved over time as different peoples have influenced the Cuban Cuisine. Cuba is definitely a melting pot of cultures and traditions and this is reflected in this delicious dish. Then it was into the kitchen to prepare two different dishes. With the help of the chefs, we chopped, prepared and cooked a lobster and shrimp dish and a shredded beef dish. I had the pleasure of adding the rum to the Lobster and Shrimp Stew. Proudly holding the bottle up high as the flames leapt up into the air, I knew I'd definitely got the best job!
Marvellous Mojitos
Following our lesson in the best cooking class in Havana, we made exceptional mojitos… I was amazed at how much better it tasted from any other mojito I'd had. It really was delicious… Cafe Ajiaco has developed their own special formula and WOW! Utter perfection! The bartender was great and showed us how to really optimise the spearmint, a technique we'll be adopting at home.
Finally, after a wonderful morning, we got to sample all our dishes and much more. It was lovely sitting with our group, chatting about the experience and enjoying our lunch. The atmosphere was very relaxed, we took our time and chilled out for a while. We watched how traditional coffee is made and tried some tasty traditional deserts.
Our Guide
Our guide Roy was brilliant. He guided us throughout the morning, translating and really getting stuck in. It was clear he wanted us to have a great experience and worked hard to ensure the whole group felt happy, comfortable and relaxed. He explained everything really well and we came away feeling not only content and very full, but as though we'd learnt a lot about Cuban cooking. We really liked the use of fresh, local ingredients. This combined with a fun atmosphere and a lovely staff team made for a wonderful morning. Cafe Ajiaco really is a fabulous place to eat, if you can though, definitely try the best cooking class in Havana, you will love it!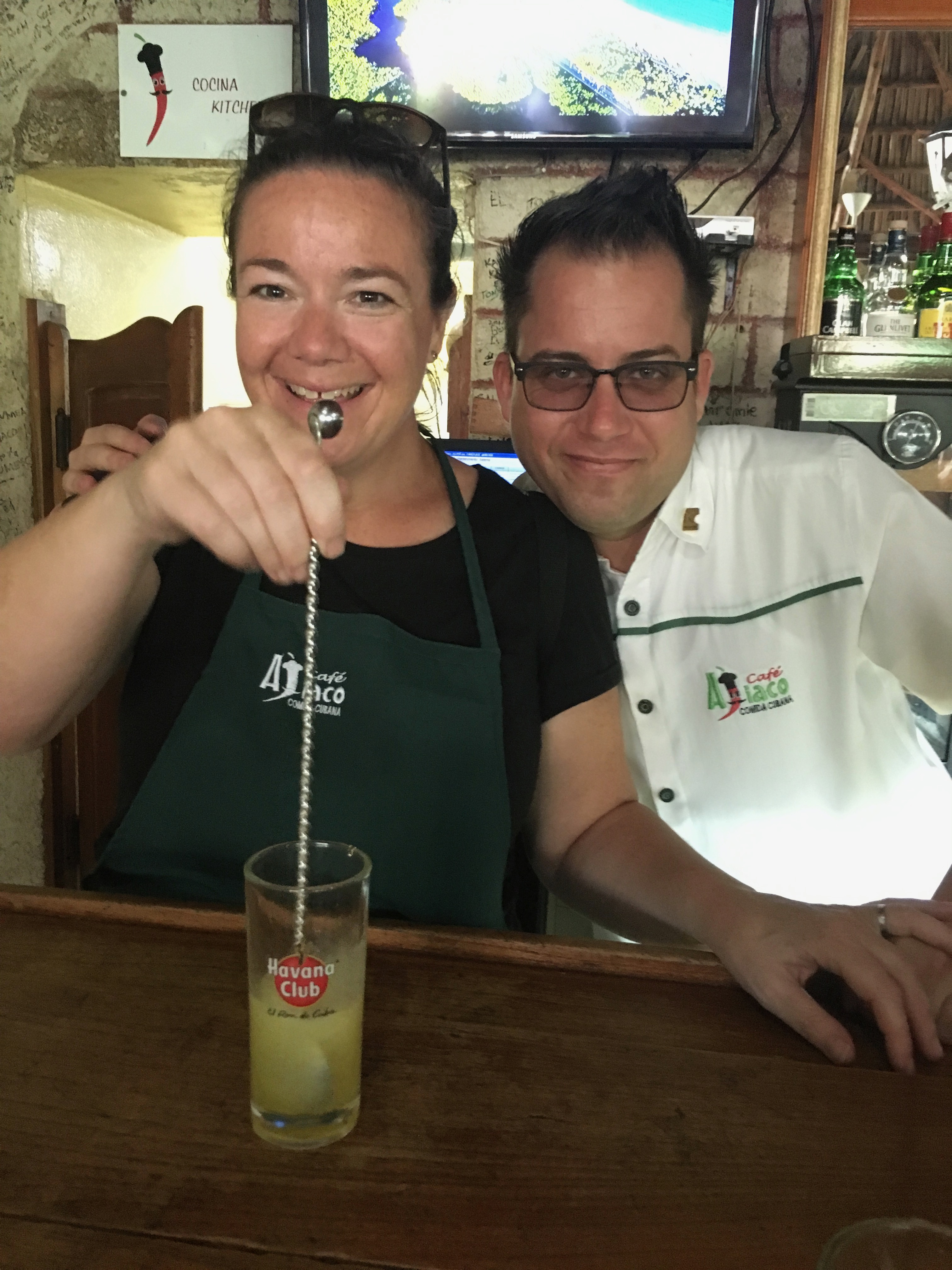 Thank You to…
We were guests of the Ajiaco Cafe and would like to thank the whole team for working together to ensure we had the best experience. We absolutely loved our cooking class and the visit to the garden. A great morning and a very unique and special memory of our visit to Havana.
We would also like to thank Molly, David, Shelley, Paul & Duni. It was lovely to meet and cook with you and share such a delicious lunch!
Where is Cafe Ajiaco which offers the best cooking class in Havana?
You can find Cafe Ajiaco in Cojimar, about 15 minutes outside of Old Havana. Cojimar is a quaint fishing village in which Hemingway found inspiration. Email cafeajiaco@gmail.com to book a class. Or follow them on Facebook.
Thanks for reading, if you are interested in the different types of posts we write, TAKE A LOOK AROUND our site.
PIN IT!