Copenhagen City Guide
"Wonderful, Wonderful Copenhagen!" The song lyrics certainly ring true in this fascinating city which seamlessly blends arts, culture, green spaces and quirkiness with impeccable taste, fantastic transport systems and opportunities to relax, discover and explore famous sites and hidden gems. Check out our Copenhagen City Guide to discover why we think it's a top destination.
Copenhagen, capital of Denmark and home to almost 764,000 people is a special city. There is an air of efficiency about the place, it is well organised, spotless, easy to navigate and feels safe. The Danes appear to have hit the jackpot when it comes to a work life balance. They enjoy the laid back vibe of Nyhavn, then  hop across the river to the Street Food Market. An eclectic mix of pop up bars and food trucks housed in a warehouse. Taking time out to stroll through the botanical gardens, is a Sunday afternoon priority.
Why is life so great for the Danes?
The Danes work hard and play hard. This is why, maybe, they have taken the top spot 4 times in the last 5 years, as being the happiest people in the world, as published in the United Nations Happiness Report.  As well as cheerful, the Danes are friendly, hospitable and above all welcoming. They are righty proud of their beautiful city and are happy to share it with visitors.
Why are the Danes so happy?
Perhaps their secret lies in "hygge," something Danes strive for. Hygge it's when you socialise with friends and family or get cosy in front of a roaring fire. Maybe take time to relax in a park, cafe or bar or enjoy an intimate gathering to share stories, laugh and unwind. Read more in, The Little Book of Hygge: The Danish Way to Live Well (Penguin Life)
by Meik Wiking, the CEO of the Happiness Research Institute in Copenhagen. He is committed to researching what makes people happiest and concludes "hygge" is the magic ingredient which makes Danes the happiest nation in the world. As a result, the world is keen to learn more about hygge!
Our Copenhagen City Guide has something for everyone, and in a city promoting happiness, what's not to love! We visited Copenhagen for 4 days, before embarking on a Baltic Cruise. I'm delighted to say, what was originally booked as a "bolt on" became a definite highlight of a longer trip. Take a look at our Copenhagen city guide to get you started.
Copenhagen Card
Having spent lots of time researching what we might do with our time, I decided to purchasing the 72 hour Copenhagen Card was the best option for us. This provides access to 77 museums and attractions, bus, metro, boat and train transportation across the entire Copenhagen region (including the airport) as well as discounts on selected restaurants, entertainment and attractions.  Although expensive at 100GBP, having totted up the costs of our chosen sights, factoring in the transport and considering whether we would do all we planned, if we didn't purchase the card, we decided to take the plunge. This might be a particularly good option for families, as each adult pass allows free access for 2 children under 11.
Get the free app then decide
There are various cards available for shorter/longer stays, I'd recommend downloading the app before making your decision. This enables you to quickly see what you might be interested in, save your favourites and calculate costs without the card. The app also displays other places of interest, which are close by, which saves time when planning. It's a great tool if you are the sort of person who likes to plan well in advance, utilise your time and organise your days rather than go with the flow! It could, in itself be considered a Copenhagen City Guide, so useful is the information.
Unlike other city cards I've researched, this card really does include most, if not all, of the things you may want to do and the added transport benefits are brilliant! Not least the inclusion of Tivoli, which at 18GBP a visit (excluding rides) is a Copenhagen highlight.
Tivoli Gardens
Tivoli Gardens were founded in 1843 and have become a national treasure and in addition, an international attraction. Fairytale writer Hans Christian Andersen visited many times, as did Walt Disney and many other celebrities, who all fell in love with the gardens. Part of Tivoli Gardens' secret is that there is something for everyone. The scenery is beautiful with exotic architecture, historic buildings and lush gardens. At night, thousands of coloured lights create a fairy tale atmosphere that is completely unique. We visited on several occasions, using the park as a cut through back to our hotel. We stumbled across fabulous evening entertainment, which we joined in with, despite a jam-packed day!
Our personal highlights
With so much on offer, there is no shortage of ideas when it comes to the question as to how one could spend their time in Copenhagen. From modern and contemporary art galleries and spaces to design museums and National Galleries that showcase the "masters" to Historical monuments and museums, castles and palaces. Then there's the zoo, aquarium and planetarium, to name but a few more options plus Tivoli and of course, a visit to see the infamous "Little Mermaid" statue. The aim of our Copenhagen City Guide is to provide an overview of our personal highlights. In addition useful information about sleeping and eating.
Our top 5 picks
Just a short train ride North of Copenhagen is the stunning Louisiana Museum of Modern Art. A beautiful space combining an impressively eclectic collection of indoor and outdoor pieces, including many sculptures by Henry Moore, where in addition you can enjoy a delicious alfresco lunch/dinner and coastal views. Besides the permanent collection, the museum has 8-12 special exhibitions annually and has also gained a reputation as being in touch with the zeitgeist of the contemporary art world. Yet another reason to visit!
Directions: Take the regional train from the main train station in Copenhagen towards Helsingør, alight at Humlebæk. There is a bus available to the Museum from the train station or its an easy 15 minute signposted walk.
Entry:  (included on the Copenhagen Card)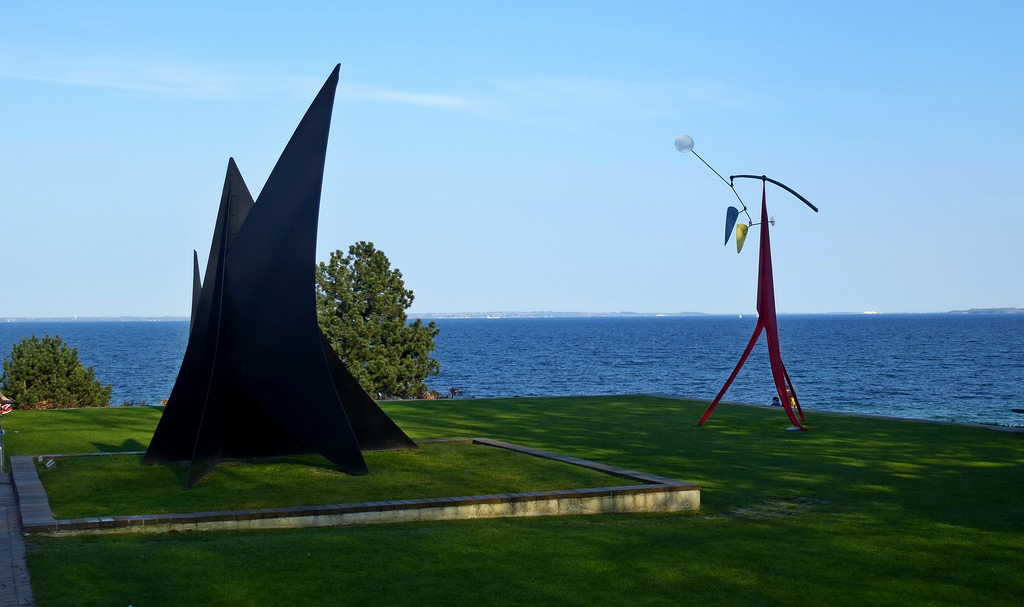 One of Northern Europes finest Renaissance castles built between 1574-1585, maybe combine with Louisiana Modern Art Museum due to close proximity! This is probably Denmarks most famous castle, known worldwide from Shakespeare's Hamlet, which is performed every summer in the outdoor courtyard.
Highlights include the 62m ballroom, the well-preserved chapel and most noteworthy, the mythological statue of Holger Danske. Holger, a mysterious and fearsome Viking warrior, who according to legend, never died; instead he 'sleeps' below the castle in the cellar. His entire life is shrouded in mystery and much speculation and may yet put in an appearance if Denmark needs his help. The castle was added to the UNESCO World Heritage List in 2000, the views are impressive as is the outdoor space.
Directions: Take the regional line from Copenhagen Main Train Station to Helsingør, where you alight and walk approximately 10 minutes to the castle. (Signposted)
Entry: (Included on the Copenhagen Card)
Northern Europe's largest aquarium is a stunning world-class architectural feat of engineering. Inspired by a whirlpool, it comprises 5 arms which reach across the entire globe. An ingenious design, provides an up close and personal experience with fascinating creatures. We thought the tropical rainforest was fantastic, and especially loved the otters!
Directions: Take the metro from Kongens Nytorv (Grey line) to Kastrup, then a short walk. (Signposted)
Entry: (Included on the Copenhagen Card)
An enchanting fairytale playground, combining an array of beautifully themed gardens, stunning architecture, traditional fairground rides and high octane experiences for thrill seekers. In addition, you will find a varied entertainment schedule and selection of eateries. Also, a welcome chance to relax, unwind and breathe clean air in the heart of the city.
Directions: Opposite Central Station Copenhagen
Entry: The Copenhagen Card includes entry, ride tickets are extra.
A beautiful area of Copenhagen, for an idyllic stroll along the waterfront, adorned with brightly coloured 17th and 18th century townhouses, lovely eateries and fabulous ice creams and crepes. Popular with tourists and locals alike, an upbeat vibe, laid back feel and a great place to enjoy an amble or a chance to sit, perfect at any time of day. Walk to the end of the street and catch a ferry across the water to "Paper Island" home to the Science Museum, great views of the Opera House and our favourite place to eat, Copenhagen Street Food Market. A veritable feast of delicious freshly cooked bites, drinks and cosy indoor/outdoor seating. Live music, fire pits, great prices and early/late opening make this a winner.
More time?  Check out…
Situated on 3 islets in the castle lake in Hillerod, a stunning Dutch Renaissance Style palace surrounded by wonderful, intricate, gardens originally built in the 1600s, then rebuilt after a devastating fire in the middle of the 19th century, by J. C. Jacobsen, the owner of Carlsberg Breweries. It has a beautiful chapel and a pleasant cafe.
Houses one of Northern Europes finest collections of the 19th and 20th century French art. British-Iraqi architect Zaha Hadid, doubled the exhibition space with her organically shaped extension and was the first women ever to be awarded the prestigious Pritzker Architecture Prize.
The Meatpacking District (Vesterbro)
A creative cluster of galleries, art cafes, brew pubs and eateries housed in the "brown building" of this former meat industry business. Great summer food markets during weekends.
Christiana
An autonomous 'free town' which supports an alternative way of living. Quirky houses, relaxed cafes, great street art, beers and green spaces to relax. Take note of rules before entering, can be quiet early in the morning. You can buy and smoke weed, openly here.
Boat tours
As Copenhagen is an old harbour and maritime city, the best ways to get a feel for the place is by boat. Hop on one of the many sightseeing tours.  As we had the Copenhagen Card we did:
Canal Tours Copenhagen: departs from Gammel Strand.
Nettobadene: departs from Holmens Church. The Copenhagen Card includes both.
Alternatively charter your own solar powered picnic boat, with GoBoat pick up at the GoBoat Pavilion next to Islands Brygge Harbour Bath.  Be sure to check out the Little Mermaid statue whilst aboard.
Walking Tours
A great way to see the city and pick up lots of interesting facts from a local guide. copenhagenfreewalkingtours.dk offer a number of tours, 365 days a year. The tours are free, but guides rely on tips and recommend you pay what you feel the tour is worth. We have enjoyed these tours in many cities. They are of an excellent standard, informative and highly popular.
Accommodation
It's not cheap… but there are places to stay to suit every budget. From a dorm in a party hostel to a five star hotel.
Bedwood Hostel, great position right by Nyhavn and gets really positive reviews. (Dorms only)
We stayed at Axel Guldsmeden in the Vesterbro District. Good location, Eco friendly Spa Hotel. Lovely rooms, great cafe.
We've heard good things about SP34, centrally located next to the Parliament Buildings and the main shopping street.
Where to eat and drink
As with any capital city, Copenhagen has a huge array of eateries and gastronomical delights. You're sure to discover your own exciting selection of top spots for a quick bite, relaxed dinner, speciality crepe or chilled out drink. Our personal favourites are:
The Laundromat Cafe Serving burgers, sandwiches, soups and salads plus you can also do your laundry! (On Elmegade 15)
Copenhagen Street Food on Paper Island, food trucks and containers serving fish and chips, tacos, curries, burgers, Korean, Moroccan,  Meat boards, gourmet hot dogs, Turkish and an assortment of smoothies, ice creams and beers, cocktails and wines!  Probably the best value for money place to eat and additionally, in a great location on the waterside.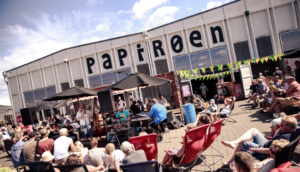 Mother Serving 'Proper' Italian comfort food. (On Høkerboderne 9) probably the best in Copenhagen!
Cocks and Cows  Superb burgers and cocktails. (On Gammel Strand 34, in SP34 Hotel and on Rosenvængets allé 6) Maybe you will discover a new recipe.
And for a sprinkling of rainbow dust…
Download a gay map and guide of Copenhagen at visitcopenhagen.com. You will find most bars along Studiestraede and City Hall.
In 2014 Copenhagen was voted the number one most gay friendly place, on the planet by The Lonely Planet. It's a laid back city, feels safe and welcoming.
We hope you enjoyed reading our Copenhagen city guide and it has been useful in your research. Copenhagen is a beautiful city, with much on offer. Hence our keenness to return and maybe live there!
We used the Top 10 Copenhagen (DK Eyewitness Travel Guide)
 to plan our trip.
Pin it!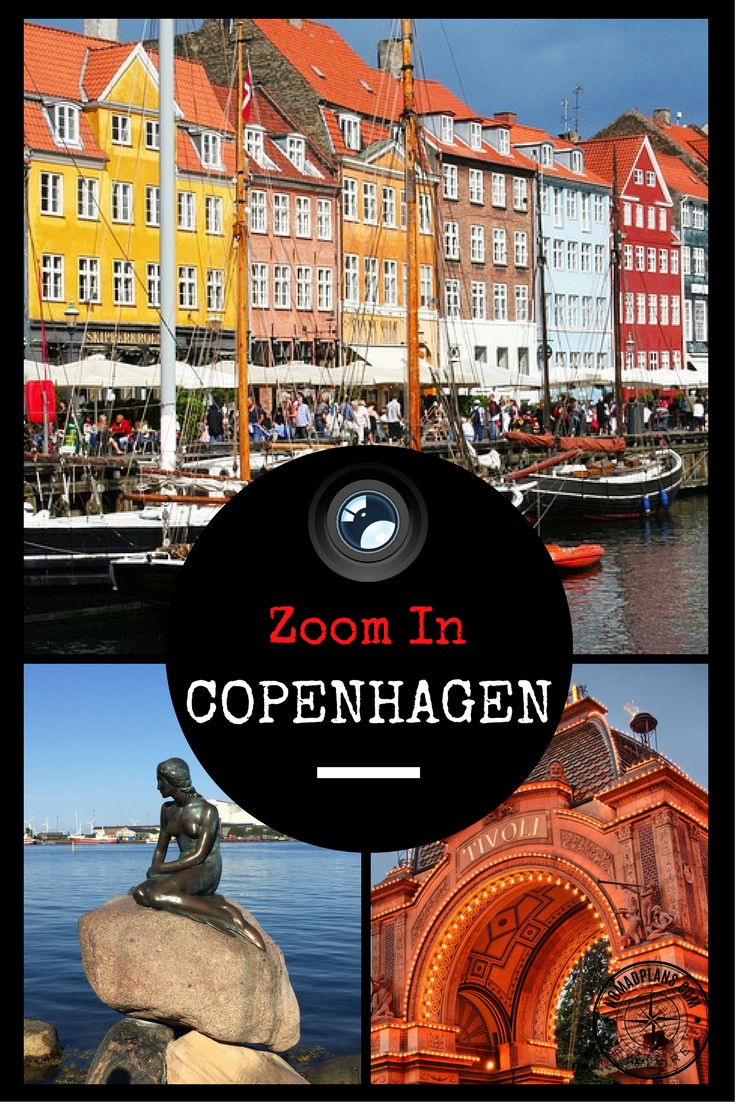 If you are interested in finding out more about hygge, take a look at our LIFESTYLE TAKEAWAY, Hyggelit your life.
For a quick grab and go guide, see our SNAPSHOT Guide to Copenhagen.
If you are interested in the different types of posts we write TAKE A LOOK AROUND our site.

SaveSave
SaveSave
SaveSave
SaveSave
SaveSave
SaveSave