Best ATV tour in Manuel Antonio
Situated just outside of Manuel Antonio, MidWorld sits within 1000 acres of idyllic landscape. Lush forests, beautiful flowers, rivers & waterfalls make this the perfect place to escape and do something different. If you want to experience something new and have fun, MidWorld is the place for you. MidWorld appreciates that friends & family groups may have different perspectives when it comes to fun and adventure. If you want to zip-line whilst your other half participates in an ATV tour, no problem. You can meet back up for lunch and compare experiences & photographs. MidWorld has a lovely covered, "outdoor" space. We like MidWorld's personalised approach, their flexibility and willingness to accommodate their guests.
Be a Superhero!
MidWorld offers a huge range of adrenaline-fuelled activities to suit everyone. From zip-lining to rappelling, spider free falls and guided hikes. You too can be a superhero and enjoy the best experiences in Manuel Antonio, with MidWorld Tours. MidWorld prioritise safety, appreciating it is key to your enjoyment. You can relax in the knowledge that all equipment is top of the range and zip-lines are double cabled. Highly trained staff will provide a full briefing and further instructions throughout your tour. We thought all the staff at MidWorld were friendly, helpful and keen to provide the best experience.
Our ATV tour
Kerry loves the whole "off road" experience so was really looking forward to this, the best ATV tour in Manuel Antonio! I had my way with zip-lining in Monteverde so it was my turn to compromise… A driving license is required and the driver must be over 18. Unfortunately, we didn't bring my drivers license, or fortunately, as the case may be with my spacial awareness! So it was all down to Kerry!
We had a great experience with Freddie, who kitted us out with helmets and explained how the ATV works. It seemed pretty straightforward, all automatic vehicles so brake and go! We embarked upon a short practice trail, Kerry got the hang of it in no time, then we were off! Up and down hills, through rivers, twists, turns, manoeuvring between trees, this track was definitely "off road!" Kerry absolutely loved it. Speeding through the rainforest was a real treat, breathtaking scenery really enhanced the whole experience.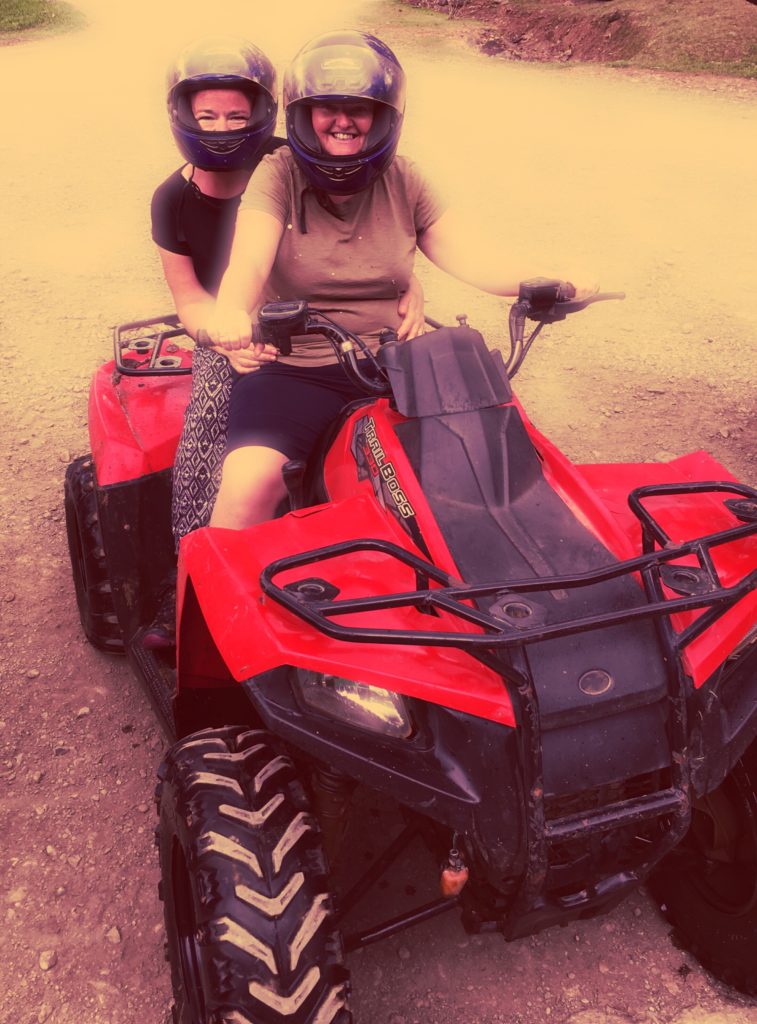 Swim in the waterfall
Halfway through the tour, we stopped off to enjoy a refreshing drink and fruit snack. There was an opportunity to walk down a short path to see a beautiful waterfall. It was great to stop for a moment, listen to nature and take a breather!
Kerry loved it! She said the ATV felt really safe and stable, despite putting it through its paces! She has ridden ATV's in other countries but said this far exceeded her expectations. Being able to speed through rivers, rev up hills and get muddy was a real highlight. For me, as the "passenger" it was all about holding on! It wasn't the most comfortable of rides, but most couples would probably swap halfway through. I did love the landscape and had hoped to spot some wildlife. ATVs aren't the quietest of machines so I'm sure most animals retreated into the forest! A nature hike would have provided me with a better opportunity to see birds and animals! So for Kerry, a big thumbs up for this the best ATV tour in Manuel Antonio!
Superman Zip-line
Whilst at MidWorld, we were also fortunate enough to experience the "Superman" zip-line. This is the longest double cabled zip, of its type, in Costa Rica.
It was absolutely fantastic, a phenomenal opportunity to see the rainforest from a birds-eye perspective. What can compare to flying, horizontally, through the air at 50mph… nothing! We both absolutely loved it, I was so proud of Kerry for giving it a go. Whilst we were in Selvatura Park, Monteverde, I had gone "Superman" style, but Kerry wouldn't. But, she thought it was fantastic, perhaps zip-lining will become our new "thing!"
Small things make a big difference
Something that really stands out with MidWorld, is their commitment to making things as easy and accessible as possible. Special platforms, with steps, have been built, for transport to pull up alongside, meaning its really easy to get in and out of high vehicles. A "table" is available for "Superman" guests to lie on, whilst being rigged up to the cable. (My previous experience involved me in a somewhat ungainly downward dog position!) Much thought and attention to detail really enhance the visitor experience.
Tasty Lunch
Following our exciting morning taking part in the best ATV tour in Manuel Antonio and flying like a bird on the Superman Zip-line, it was time for lunch. It was fantastic to sit back and relax, whilst being served a delicious traditional Costa Rican lunch. Freshly cooked and really tasty, everyone thoroughly enjoyed it. It was great to catch up with everyone on our "pick up" It was big smiles all around, a brilliant time had by all!
Something for everyone!
So, if you are looking for adventure whilst in Manuel Antonio, MidWorld really is a fabulous tour company. Not just because they provide a whole range of experiences but because their personalised approach makes them standout. Kerry and I are great at compromising and do most things together, but for those of you who don't… there's the option to go off, do your "thing" then meet back! Perfect solution…
Be aware, before being taken to MidWorld, you will visit their office where you will be asked to complete a medical form and show your drivers license. (If applicable) I would also suggest checking their comprehensive website to ensure you wear the correct clothing for your activity. Insect repellent is advisable too! There are lockers at MidWorld, where you can safely leave your belongings.
PIN IT!
We were guests of MidWorld and had a great day, the staff were fantastic, helpful, friendly and above all safety was their priority.
Do you fancy walking across the rainforest canopy on a hanging bridge whilst in Costa Rica? See our review of the best hanging bridges in Arenal.