Best Zipline in Monteverde
Selvatura Park, a stunning, heavenly tropical paradise in the heart of the Monteverde Cloudforest. This spectacular park offers something for everyone. Whether you prefer to keep your feet firmly on the forest floor or zip like a superhero for a bird's eye view, the choice is yours. If birds are your thing, or you love butterflies, insects and amphibians then Selvatura is the park to visit. Oh and this is definitely the best zip line in Monteverde!
Something for everyone!
Selvatura Park offers a variety of package options, depending on your preference.
We booked a package that included the hanging bridges, canopy tour, the best zip line in Monteverde, hummingbird garden and a guided butterfly tour. Upon our arrival at the visitor's centre, we "checked in" and were told in which order we should do our activities. First up, the canopy tour!
The Canopy Tour
I was glad this was our first activity, as Kerry wasn't too keen and wanted to get it out of the way… she doesn't like heights so 13 zip lines, totalling over 4km of cables was a tall order. But… it was fantastic! Most of the lines are connected, so basically you zip from one platform to the next. Definitely the best zip line in Monteverde! After being kitted up, we joined a group of 15 people.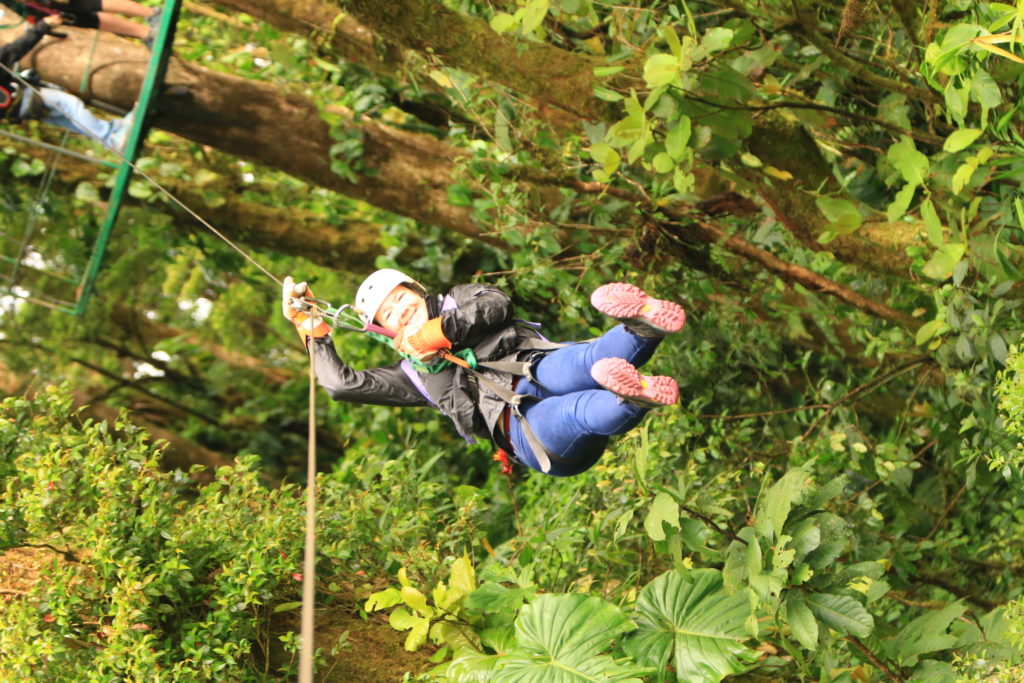 Top Tips
* Do "Superman" – The last 1km line can, for an extra $10 payable at reception before you begin, be flown "Superman" style. This involves wearing a large "apron" style harness and soaring horizontally across the trees. It was absolutely brilliant and the highlight of my time in the park. The only downside is, you have to carry a rucksack, containing the harness throughout the tour – it wasn't too heavy though so worth the bother.
* Take a drink! Staff will give you a locker key before you start the zip lines. This to us suggested our personal belongings had to be put in the locker. WRONG! You can carry your own rucksack, if you prefer, throughout the zipping. The tour takes approximately 2 hours and does involve some walking between sets of lines. We didn't bring a drink and regretted it! One woman did the whole course wearing her handbag and camera around her neck!
Making Memories!
We both really enjoyed the whole experience and bought the "photo package." It's really difficult to get pictures so a lovely memory of our zipping on the best zip line in Monteverde!
All the staff working the zip lines were great. Really positive, friendly, keen to put people at ease and provide tips for a smoother zip! Initially, I found it quite tricky to get a grip of the "breaking" technique, but with a bit of help soon got the hang of it. Kerry managed to control her tendency to "spin" and on one of the longer lines, we sailed tandem style, which we loved. People of all shapes, sizes, ages and nationalities successfully navigated the ziplines and everyone really enjoyed it! It felt really safe, very well organised and lots of fun.
Butterfly Tour
Next up, the butterfly tour. We entered the butterfly reserve, with our guide, for a fascinating 30-minute stroll amongst some of the most stunning butterflies I've ever seen. Be warned, it is hot… beyond hot! So take a drink and remove as many clothes as possible! Our guide was highly knowledgeable, explained the cycle of a butterfly and showed us the insects at various stages. It was amazing to see a newly emerged butterfly, "drying" out. The "owl" butterfly was particularly impressive, a huge "Disney style" iridescent blue. To walk amongst such a colourful and spectacular flutter of wings was a real treat and somewhat surreal experience. I was waiting for Snow White to put in an appearance!
The Hanging Bridges
Kerry and I loved walking the "hanging bridges" trail. It was absolutely brilliant. A relatively flat, accessible path, which covers approximately 3Km, is punctuated with "hanging bridges."
To walk across a bridge suspended across the cloud forest is a phenomenal experience. The views are spectacular, take binoculars or a "scope" to zoom in. Although we didn't spot much in the way of wildlife, for us this didn't detract from the experience. It is possible to book on a guided walk, so if you are keen to see specific birds/animals, go with an expert. For us, to be waltzing through the cloud forest, with the place virtually to ourselves, taking our time to experience just being there, was really magical. The bridges, although some a little worse for wear, feel safe and we liked the "sway" as we walked.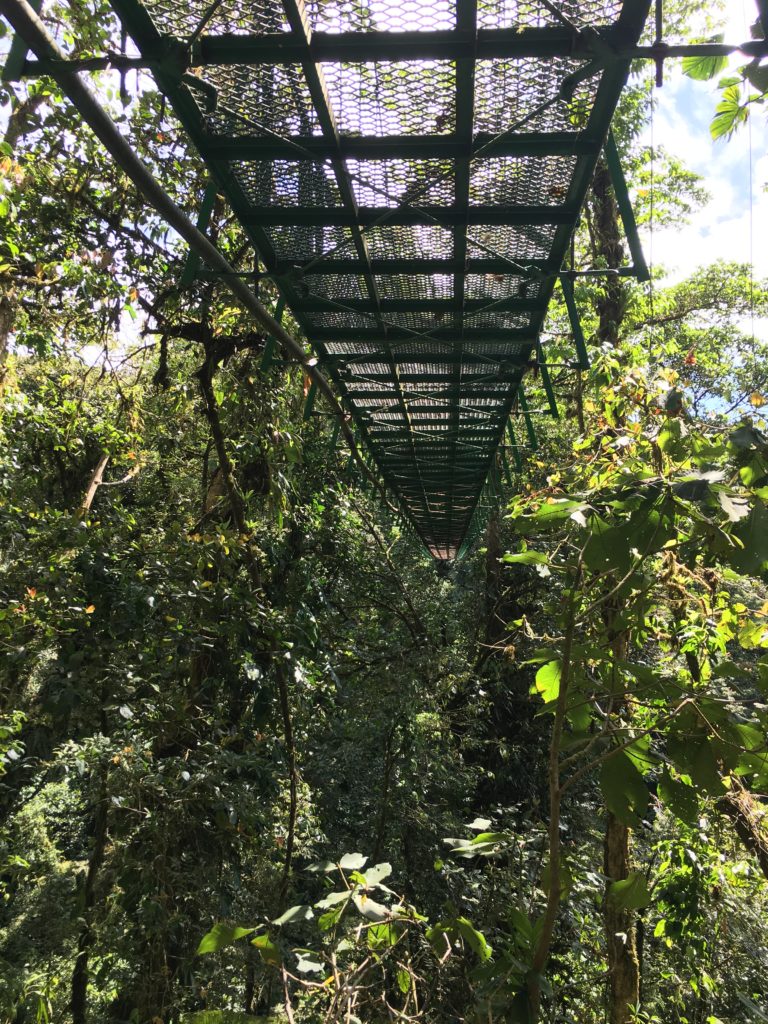 The Humming Bird Garden
Finally, we went and got up close and personal with 15 species of hummingbirds! This for us was actually quite a strange experience. I hadn't anticipated the fact that the birds would shoot straight past my face, hovering in front of my nose or be quite so zippy! Neither had we realised how small some are, almost insect-like! The garden is filled with feeders, the birds surround the feeders and will land on your hand if you put it parallel to the "hole." At times I found it a little stressful, the humming, buzzing noise, the unpredictability and feeding frenzy! Lots of people were loving it and delighted in the opportunity of being so close to these beautiful birds, I preferred being up in the air on the best zip line in Monteverde.
How long should I spend?
Kerry and I opted to take the complimentary 3 pm shuttle back to Santa Elena. Having arrived at 9 am, we felt this gave us plenty of time to really enjoy the park. We took our time, had a few "rests" and enjoyed a snack along the way. Depending on how you like to do things and which activities you choose, we think you could easily plan to spend the day here. There is a lovely restaurant, some packages include lunch there and you can buy snacks and drinks at the gift shop, or bring your own.
Selvatura – a great day out!
The park is well maintained throughout, the staff are really helpful and friendly and we had a brilliant day. We would definitely recommend Selvatura Park, its the only place you can do a zip line in the actual Cloud forest and for us an unmissable experience. This was our favourite activity whilst staying in the Monteverde area and one we will not forget! If you want to experience the best zip line in Monteverde, be sure to put Selvatura Park on your list!
We were guests of Selvatura Park and we thoroughly enjoyed our time in this stunning place and hope to return one day! As always we offer an unbiased and honest review.
PIN IT!
If you would like to find out more about other activities in Costa Rica read about our search for the  Red Eyed tree frog and our Superman Zipline and ATV Tour in Manuel Antonio.