Art Deco in Miami, Our top 5
Miami, one of the USA's most glamorous hotspots. It's the playground of the rich and famous, home to South Beach and also, countless celebrities owning spectacular residents! But there is a lot more to Miami than bars, glamour and beautiful people… and, as a matter of fact, if Art Deco Architecture is your thing, then Miami is, ultimately THE place to visit! All in all, it is an amazing destination. Will you add Miami to your list?
A bit of history
In the early 1900s, Carl Fisher was a driving force behind creating a haven of chic in South Beach, hoping to attract wealth and prosperity to the area and make it a high-end resort destination. His first luxury hotel opened its doors in 1913 and he collaborated with John Collins to help complete the bridge that would enable the tourists to flock in their multitudes. The Art Deco period of the 1930s and 1940s followed, in which beautifully geometric, pastel coloured buildings emerged. Art Deco in Miami is world class.
In the 1960's and 1970's South Beach became home to those seeking an inexpensive, not to mention, "sunny" retirement. In the 1980's it had its revival. Potential recognised, it became the vibrant, diverse, fun-loving area we know. Tourists from around the globe, flock to see art deco in Miami.  The splendour of this bygone era is a much loved and highly celebrated element of Miami culture.
We spent 5 days in Miami and a definite highlight for us was taking a 90 minute Art Deco in Miami Walking Tour, with a volunteer from the Miami Design Preservation League. Our guide was passionate about all things Art Deco, informative, energetic and soon had us symmetry spotting, eyeing up eyebrows and pondering portholes! Since there are 800 Art Deco Miami buildings to choose from, picking our top 5 was tricky. These are our favourites, will they be yours?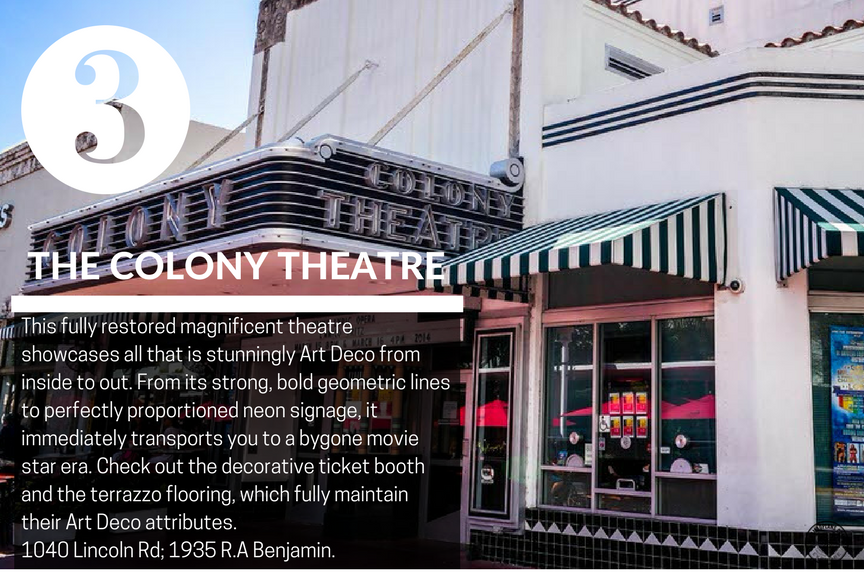 Will you symmetry spot?
Thank you for taking the time to read our Art Deco in Miami post. Will you feel inspired to take up symmetry spotting and identifying eyebrows? As a result of my stay in Miami, I've been more aware of many beautiful Art Deco buildings here in the UK. Also, I've been inspired to search for art deco in my hometown. Most noteworthy, I discovered that Liverpool's famous "Philharmonic Hall" home to their resident orchestra, is a classic example incorporating a symmetrical, geometric design. The stunning door panels, made of glass depict art deco style musical instruments. Additionally, The elegant design was featured on the BBC One's Antiques Roadshow in March 2015. This building is especially relevant to me because I have played with the orchestra on stage and also sung there.
Are there are examples of Art Deco architecture in your hometown? Sometimes it is easy to miss the beauty on your doorstep!
Pin it!
If you are interested in the different types of posts we write TAKE A LOOK AROUND our site.
If you want to find out more about Art Deco in Miami see Miami Beach Deco
 book.

SaveSave
SaveSave
SaveSave
SaveSave