Things to do in Rio de Janeiro
Rio de Janerio, Brazil's jewel in the crown and a highlight of South America. A vibrant kaleidoscope of colour, tradition, music and sunshine. Rio is blessed with panoramic viewpoints, sandy shores and an infectious enthusiasm for life. We visited Rio as part of a wider South American adventure. Check out our personal favourites of the many things to do in Rio de Janeiro.  Additionally, allow plenty of time to soak up the atmosphere, people watch and just be!
Spoilt for choice
From the awe-inspiring Christ the Redeemer Statue to the iconic Sugar Loaf Mountain. Add in sun-kissed, sandy beaches and sipping a caipirinha. Witness the hustle and bustle of a favela and the quiet cobbled streets of Santa Teresa! You will be surprised at the sheer number of things to do in Rio de Janeiro. If you are looking for a space to relax, the Jardim Botânico is a delightful haven of tranquillity. For a church with the wow factor, step inside São Bento and be prepared to be mesmerised. Rio de Janeiro has something for everyone. It is a city rich in culture, in a jaw-dropping location.
Party like a Brazilian
Lastly, but most importantly, the people. The Brazilians grab life by the horns and give it a good shake. They are vibrant, life loving, energetic and friendly. Spontaneous singing, dancing, as well as drumming adds to the party vibe. Prepare to join in, let down your guard and strut your stuff in true Brazilian fashion!
Click on the images below for things to do in Rio.
Thanks for checking out our IN THE FRAME, things to do in Rio de Janeiro guide. If you have time, consider a trip to Ilha Grande. This beautiful Island, just 150km from Rio, is a perfect antidote to the hustle and bustle of Rio. Prioritise lounging in a hammock whilst watching the sun setting over the Atlantic Ocean…
Pin it!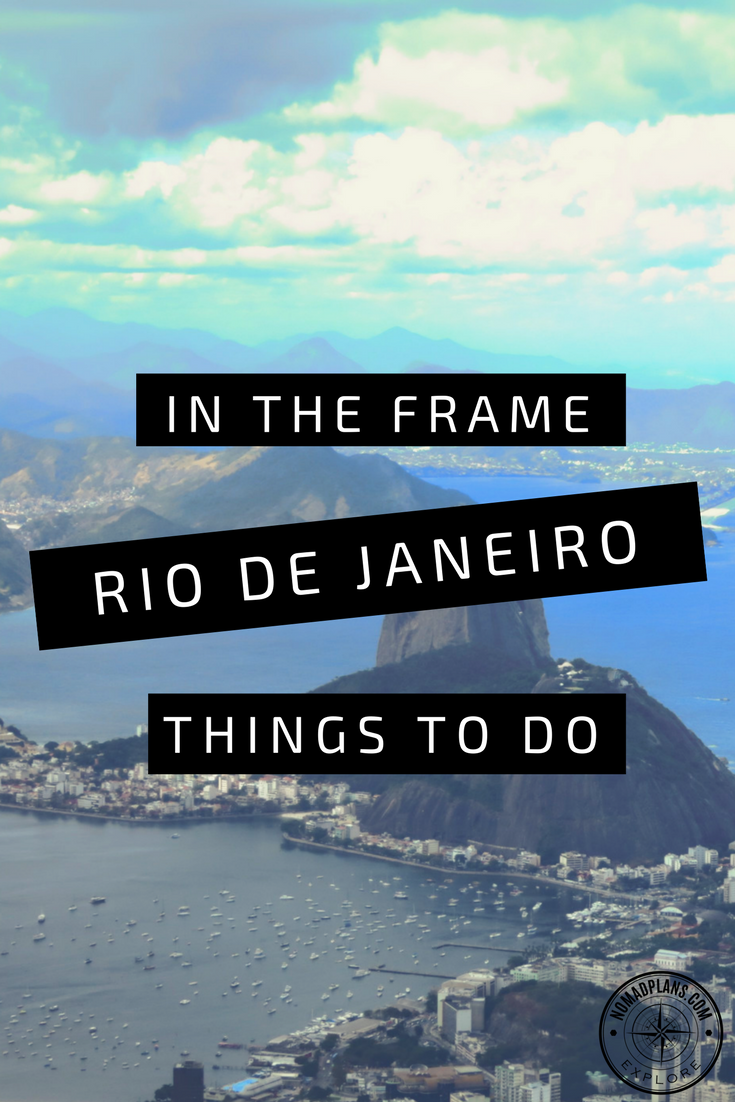 In addition, check out our TRAVEL TALE about a Rio B&B.
We used the Lonely Planet Brazil (Travel Guide)
 to help plan our trip.
Also, if you are interested in the different types of posts we write TAKE A LOOK AROUND our site.

SaveSave
SaveSave
SaveSave
SaveSave
SaveSave